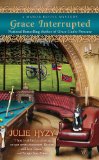 Grace Interrupted
begins, appropriately enough, with protagonist Grace Wheaton being interrupted. She's at her job as manager of the elegant Marshfield Manor, when two female troublemakers are brought to her. Their goal is to taser a man who jilted their friend, by phone, at the altar, and they feel this request is reasonable. Grace might privately agree with them, but she can't allow that to happen. Meanwhile, Marshfield is hosting a Civil War re-enactment, and a large group of people in homespun woolens have set up tents and cauldrons in a field on the grounds. One of them is identified as the culprit and hauled before the group. He talks his way out of situation, leaving the women seething behind him, and picks a fight with one of the gardeners, leaving him with a broken nose. In some ways, no one is surprised when his dead body is discovered the next morning, in a small copse not far from the Civil War re-enactors.
Who dunnit? As always with murder mysteries, that is the question. The prime suspect is Jack Embers, a handsome gardener that Grace has been sort of almost dating. It comes out that 13 years earlier, the dead man's brother was killed, and Jack was the prime suspect then. Things look bad for their burgeoning relationship.
In a running side-plot, Grace adopts a stray kitten, a black-and-white charmer she names Bootsie. She agonizes over whether to keep her historical cottage, bequeathed to her by her mother, or whether to move into the caretaker's cottage on the Manor grounds, and whether to keep Bootsie, who makes her sneeze. And she has the brilliant idea of sending her nosy personal assistant in disguise to wander round the camp of the Civil War re-enactors. Francis has a blast spending Manor money on several different outfits, and she has soon infiltrated the inner circles of the group. But it's Grace who ends up putting all the pieces together, and racing against time to stop the killer before he can attack again.
Grace Interrupted
is the second in Julie Hyzy 's Manor House Mysteries series. Although the book refers to many events in the first, it is not necessary to have read it to enjoy this one.
Elizabeth enjoys nice, crisp murder mysteries like this one. Read more of her likes and dislikes at her blog Planet Nomad.