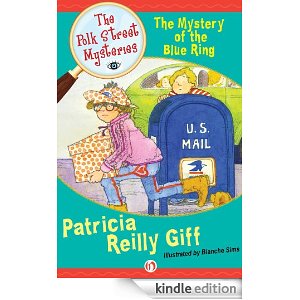 Raise your hand if you ever spent a Free Range Saturday when you were growing up trying to solve a mystery that you conjured up? Yeah, me too. Unlike the kids in the books I liked to read, there were never any real mysteries to solve.
The Mystery of the Blue Ring is the first book in the Polk Street Mysteries series, by Patricia Reilly Giff, originally published in the late 80's. This short chapter book is only somewhat dated (like the fact that the 2nd graders can roam to and fro unsupervised as children did in the 80's). The plot is simple and one that children will be able to understand and will relate to. One day Emily loses her special birthday ring with the blue stone. Dawn is a suspect, so she figures the only way to clear her name is to find the ring or the thief herself!
The kids don't have attitude; there aren't funny cartoons throughout — it's just a book that is easy-to-read and engaging at the same time, which proves that good things come in old packages.
I may be in the minority here, but I'm so glad that they are releasing more children's books as ebooks. For one thing, the price is right. For another, kids like using a device, and finally — it's so easy to have unlimited ebooks on you! Even before I got my Kindle, Amanda was using the Kindle app on her ipod touch. I don't like reading on that small screen, but she does. Kyle probably would too. He hasn't gotten to this book yet, but he did read a couple of short books on my Kindle on our last driving trip, and I have this one loaded up for an upcoming trip.
Thanks to Open Road Media, who has re-released this series (along with a number of others for kids and adults), I have TWO copies of the ebook of The Mystery of the Blue Ring. If you win, you will be sent a download link where you can read it on your ereader of choice (Nook, Kindle, Ipad compatible), or your PC or Kindle app which is available on many devices.This giveaway is closed.
Leave a comment if you'd like to enter. I'll announce the winners on July 27.
Don't miss a thing: Check out our current giveaways. Subscribe to our feed or video reviews on YouTube. Follow us @5M4B on Twitter or on Facebook.
Jennifer Donovan isn't sure that she wants to share her Kindle, however she's happy that her children have yet another way to enjoy books. She blogs at Snapshot.