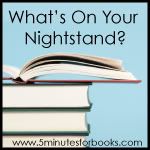 Summer is winding down. Some of you will be sending kids to school in as little as a few weeks. Is your leisure reading time winding down or is it ramping up?
I have to say that I've had quite a successful reading summer. I'm traveling now, and have another family trip to squeeze in before school starts, so there is more reading goodness to come.
We'd love to hear what you'd like to read or what you just finished reading that you just have to recommend someone.
Write a post on your blog, link up here below, visit around to peek at other people's nightstands, then repeat on the 4th Tuesday of each month.
Check out our current giveaways. Subscribe to our feed. Follow us @5M4B on Twitter or on Facebook or YouTube.