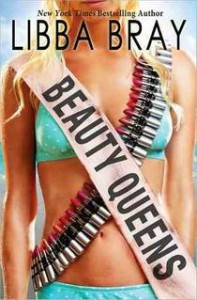 I've recently read a few adult social satire novels (or if not satire, at least social commentary), but I don't know if I've read anything specifically geared to teens.
Libba Bray's Beauty Queens cracked me up from the beginning. It's a Young Adult novel aimed at older teens, but one that women readers are likely to enjoy as well. Throughout the novel she pokes fun at "The Corporation" which sells everything from Lady 'Stash Remover to skin care products to rum, and produces reality TV shows, movies, and sponsors the Miss Teen Dream pageant. She also subtly pokes fun at the consumers who allow The Corporation to continue to profit off such ventures.
On the way to the Miss Teen Dream pageant, the plane goes down on an island, creating a Lord of the Flies atmosphere. There are about 10 girls left, and most of them have some sort of secret or agenda. One is a journalist who was hoping to expose the bad points of pageants, one contestant is a lesbian, one is tired of the persona she's created for herself, another is tired of letting beauty compensate for personality, and one is a to-the-death competitor. I am being specifically vague because I hate spoilers, but these are all character-types that will be real to high-schoolers.
Being on the island causes the girls to become their true selves and see what they are really made of.
I'd give this about a 3.75. It started strong, but it did get a little long-winded for me. However, the ending nicely tied things up, and even gives us a peek at the future of the girls, which I always like.
CONTENT NOTE: There is some violence and killing, and most of the killing is handled almost as if it's not real, in a very satirical way (if you are of my generation, think of the movie Heathers). There is drinking, there are sexual relations and mature topics concerning sexuality (such as homosexuality and bisexuality along with transgender issues). Even though parents might raise their eyebrows at such topics, high school girls (and I would recommend this for older YA readers, not middle schoolers) are familiar with all these issues and they are all handled responsibly and with care.
Don't miss a thing:
Check out our current giveaways.
Subscribe to our feed or video reviews on YouTube.
Follow us @5M4B on Twitter or on Facebook.
Jennifer Donovan was never a beauty queen and never aspired to be one (Okay, she would have been thrilled to be nominated for Homecoming Queen). She's happy to be a wife, mother, writer, reader, and friend and tackles those themes at Snapshot.