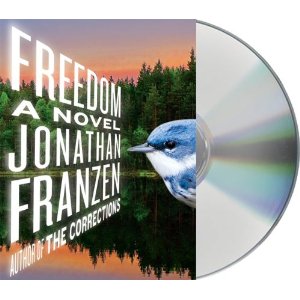 Two things drew me to this book — the promise that it was a great depiction of 21st century suburban life, and all the hype about Jonathan Franzen in general.
But hype can hinder as well as help a book, and you can't talk about this book without addressing hype (about which I wrote a column On Reading: Hype). Automatically I was going in to Freedom with a sort of "Prove it!" mentality.
Another reservation I had going in was the early reviews I had seen saying that we would see ourselves in these characters, but we wouldn't like these characters. I by no means only read "happy tales," but I also don't gravitate towards scathing criticism of the reality of our lives.
I was pleasantly surprised with the characters and the plotline. No, these are not heroic type characters, but they are absolutely real. Yes, I disliked some of the choices that they made, but they were painted with a broad enough brush that I didn't end up hating the characters.
And it is the kind of book you want to talk about: Is this what our society is like? Are you like this? If your book club is the kind whose members would actually read a 576 page book (or listen to 19 hours of CDs), then this would be a great one to ponder with a group.
The theme of Freedom comes through loud and clear, but in so many ways other than what you might think:
freedom from dysfunctional friendships and families
freedom that leads to entrapment somewhere else
freedom from selfish desires
freedom to indulge selfish desires
freedom from convention
the responsibilities of freedom
the myth of freedom
Because of a satisfying conclusion which wrapped up these characters' stories, the strong voice of each character, relevant observations of society today, in a story told with honesty and a good amount of humor, I give this a solid 4+ star rating. I'm glad I read it.
AUDIO NOTES: I actually didn't "read" this book, but listened to it. An audiobook is a good way to tackle a long book (and you get more bang for your buck that way). These CDs were over 19 hours long, but the narrator David LeDoux did an excellent job nuancing each of the characters' voices.
I think that this is one of the best-read single-narrator novels that I've listened to. Patty's self-deprecating laugh will stay with me for a long, long time. I'm glad I experienced the book in this way and highly recommend this production.
Jennifer Donovan is not a cynic. She's pretty happy with her typical American life, which includes the typical amount of bad choices and dysfunction. Find out more of her secrets at her blog Snapshot.
Subscribe to our feed. Follow us @5M4B on Twitter. Check out our current giveaways.