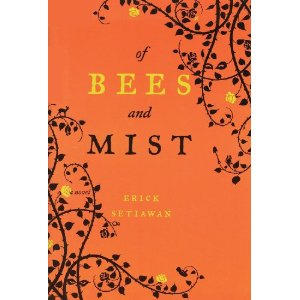 The pitch for Of Bees and Mist: A Novel called it an "enchanting new work spans the genres of fantasy, romance, sci-fi and mystery. Author Erick Setiawan seamlessly blends mystical elements with raw human emotion to trace the progression of love, loss, and triumph across generations."
In reading the description of this book, I felt sure that it would either fall completely flat, or would be one of those marvelous books that transcends traditional genres that I absolutely love.
I'm not sure that it hit either one of those highs or lows, but it was definitely a fascinating book. It reminded me somewhat of Gregory Maguire's Wicked: The Life and Times of the Wicked Witch of the West. I didn't actually like that book very much at all, because it was sort of crude and coarse in the telling, but the parts I did like — the creation of a timeless world that exists under the umbrella of magical realism — are the parts that brought up the comparison.
Though written by a man, Erick Setiawan, Of Bees and Mist is a story about women. It's a story about a few sets of mothers and children; of sisters; friends; of a newly married bride, and the transformation that occurs when she becomes a mother (or doesn't). It's a story of what couples do when their love grows old, how husbands and wives control each other and destroy each other. It's about ambition, and talent, and dreams.
Those are all grounded realistic topics, but they come to life under the shroud of swarms of bees (created by a bitter, angry and selfish woman), and a cover of mist (created to strangle and steal love).
If you enjoy adapted fairy tale stories, such as Wicked, you should definitely give this a try. If you enjoy stories about women in all the phases of their lives, and are willing to suspend your disbelief, you will likely enjoy Of Bees and Mist as well.
Jennifer Donovan is always ready to suspend her disbelief for a good novel. She's mired in belief at Snapshot.