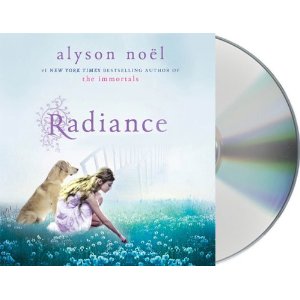 Teenage fans of Alyson Noel's The Immortals series will be familiar with Ever's younger sister Riley. With Radiance, Alyson Noel gives us an entirely new series for a completely different audience. Whereas I recommend The Immortals for teen readers, this novel is completely appropriate for young tweens.
For those unfamiliar with the series, Riley, her parents, and her dog Buttercup died in a car crash (big sister Ever lived and is featured in The Immortals series). For a while Riley refused to "cross over," and lived sort of in limbo, visiting Ever and staying on the Earth plane. This story picks up with her living in "Here & Now." Her life is much like it was on earth, with her parents, her dog, school. But she's also training to be a Soul Catcher — to help guide those souls
I was a little curious to see how the supernatural elements would play out — would they be too dark or too scary for the target age of the book? In my opinion they aren't at all.
Radiance is an imaginative story with a realistically drawn 12-year-old heroine. She's flawed, but because of that, we have the opportunity to see her grow.
This book is the first in a series, so we'll have the opportunity to do just that. Though it is set up to be a series, I liked that the story completely stands alone as Riley completes her first task as a Soul Catcher, and helps her trainer, teen boy Bodhi, complete his as well.
I am slightly worried that younger readers will read this, and jump right from this series over to the much more mature Immortals series, but that's up to the parents to control. This book is a great way to give middle-grade readers something age-appropriate to read that has the same supernatural themes as books written for older teens that they might be begging you to read, though they are not age-appropriate.
Audio notes: This audio version is excellent. The narration by Kathleen McInerney moves the story along. It's also is very reasonably priced ($14.99 list price, but available for less at some places online). Audiobooks make a great gift for booklovers and are an excellent way to encourage reluctant readers.
I recommend this story for girls, age 10 and up. There is a mild romantic undertone, but in a completely age-appropriate way for a 12-year-old character.
Editor's Note: After I wrote my Nanny McPhee Returns review, my Macmillan contact told me that they had released the audiobook at the same time, and it's read by Emma Thompson herself! It's also reasonably priced. You can listen to an excerpt HERE. Check out my original post to read my full review of Nanny McPhee Returns (and enter to win through September 8).

Jennifer Donovan loves realistic 12-year-old voices, including her own daughter's. She blogs at Snapshot.