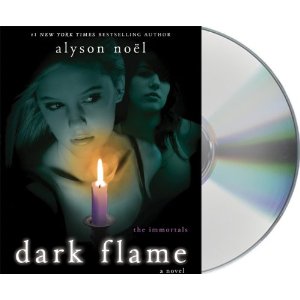 It's hard to review the fourth book in a series of books, because there are still new readers coming to the series, and I absolutely hate spoilers. I like to know as little as possible about what happens in a book or movie before I experience it for myself. So for those of you new to the Immortals series by Alyson Noel, you can read my reviews of the first two books Evermore and Blue Moon and the third Shadowland, and then just skip down and leave a comment to win the first four books in the series on audiobook, which MacMillan Audio is sponsoring in honor of the upcoming release of Dark Flame.
Because I still get comments on those first two posts, I know that this series is attracting new and devoted followers all the time. I will say that although I've enjoyed exploring this very teen-oriented series, especially on audiobook, the third book in the series left me feeling a little concerned about the direction of the last half of the series.
I realize that it's hard to keep the same characters fresh — to give them new ways to interact, and new things to experience. Dark Flame does this for sure. It's a strong book, and adds new and completely believable obstacles and conflict into all the character's lives that give them a bit of needed depth.
We have a set of the first four books in the Immortals series (thus far) in audiobook format from MacMillan Audio to give to one of you. If the series is new to you, this is a great way to "read" it (as I have been doing). If you've already read the first three, I think that you are going to love the audiobook version as another way to experience a series you like.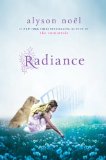 Please leave a comment (U.S. addresses only) if you'd like to win. We'll announce the winner on June 30.
I was also excited to find out that Alyson Noel has a new series featuring Riley, Ever's sister, and her life in Summerland. It's called Radiance and the book and audiobook will be out 8/31.
Check out our current giveaways. Subscribe to our feed. Follow us @5M4B on Twitter.

Jennifer Donovan enjoys dipping into the teen mind in books, and especially audiobooks, which sometimes feel a little like eavesdropping. She blogs at Snapshot.