You might be aware of the book Stranger in the Woods
. The photography of Carol R. Sams II and Jean Stoick, a husband and wife team, is striking, to be sure. Their books are referred to as "A Photographic Fantasy" and indeed they are! These two photographers love nature in the woods and their books and photographs reveal their passion.
Our family had received a copy of the book First Snow in the Woods
last fall and, as a photographer who lives in a wooded area, I enjoyed looking through the photographic artwork that is contained in this picture/story book about animals in nature.
Therefore, when I stumbled upon the Stranger in the Woods booth at the Book Expo, and discovered that they had made a few movies based on their books, I knew I had to look into them!
Sams and Stoick graciously offered a few samples of their DVD versions of the following books: Lost in the Woods: The Movie
(winner of 12 National and International awards) and Stranger in the Woods: The Movie
. I watched both with my three and one year old when I returned home from New York because I wanted to gauge their reaction before writing up a review.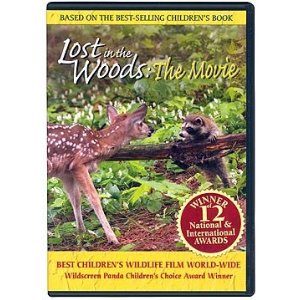 Both of my children loved these movies. From a child's perspective, they enjoyed the name of the raccoon who is involved and part of the main story integral to the Lost in the Woods
film. My three year old laughed every time the raccoon said his name – because it is a long name and sounds silly. In fact, a week after watching the movie he asked to see it again in order to 'see that funny raccoon.'
Sams and Stoick clearly care about nature and wildlife and you can feel their love for it in their photography and in the cinemetography. They capture the essence of the animals in their natural habit, behaving and living as they naturally do. Then they use their footage and images to piece together a story.
Admittedly, the DVDs are not ones that would appeal to adults (or, at least, didn't to this one!). They are a little too silly. I did enjoy watching the film with my kids, because they were both giggling and enjoying it. But it's not one that I would watch in my own right. I don't think the point of the films though are to appeal to adults. They are designed with children in mind, to teach them about our woodland friends and the way of life out in the woods.
Each video is roughly 40 minutes in length. Both have characters who narrate and explain the books by the same title. For example, in Stranger in the Woods: The Movie
we are introduced to two snow drifts named Pierre and Janine (who have been shaped and molded a bit to give them human-like characteristics.) These two snow drifts are having a conversation with one another and are introducing the viewer to various friends of theirs who live in the woods. They also reminisce about the time when a stranger came to the woods. There is a story within each story in these movies and it keeps the children guessing as to what is going to happen next. In our case, my son was very curious to find out, "WHO is the stranger, Mommy!?!?!" (As I said, it was kind of fun watching this with my children because they were both interacting with the videos.)
Stranger in the Woods: A Photographic Fantasy
is approaching its 10th Anniversary this year. I didn't realize that the books had been around so long, but they have and now there are movies to enjoy alongside them. Sams and Stoick should be very proud of the products that they have created – which are unique in our world of books.
I'm happy to recommend these videos as an educational resource an a guarenteed child-pleaser.
For more information about the movie, as well as the photographic art of Sams and Stoick, be sure to check out Strangerinthewoods.com . They also have Plan Activity Guides to be used in accompaniment with the books and videos so you might want to take a peek at those also.
Carrie comes by her book obsession honestly, having descended from a long line of bibliophiles. She blogs about books regularly at Reading to Know.