Each month my post on the first two books in The Immortals series by Alyson Noel (Evermore and Blue Moon) receives a noticeable number of hits, and occasionally a comment from a teen fan, which tells me that these books are hot.
The Immortals series consists of Evermore, Blue Moon, and the recently-released Shadowland (which brings us to the mid-point in the six-book series). These books follow the trend of the paranormal. Though I know that some younger kids try to jump on the bandwagon with some Young Adult offerings, I think that these books are definitely for teens. While there's nothing overly explicit, there are many mature themes presented including drinking, physical relationships, not to mention some dark magic.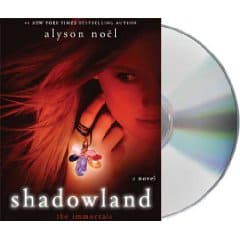 I've been taking in the series on audiobook. The excellent narration from Katie Schorr adds to the experience.
I don't want to give anything away to those who might be just starting on the series, but I love the direction that Shadowland takes. More characters are introduced, including one that may get between Ever and Damen. Like Blue Moon, it ends on a bit of a cliffhanger, which will leave teens counting down the days until the next book is released.
While audiobooks are sometimes quite expensive, MacMillian audio has made Shadowland available at a great price, and it even comes with a special commemorative Immortals necklace.
Consider audiobooks for the teen in your life. You could introduce them to a new series or buy the audiobooks of a favorite series to give them an additional way to enjoy one of their favorites.

Jennifer Donovan loves listening the great renditions of books produced as audiobooks. She blogs at Snapshot.

One grand prize winner will receive all three books in the series on audiobook CDs from MacMillan Audio. Three more of you will receive the Shadowland on CD audiobook.
Entries will be closed on December 8, and we will announce the winners on December 9. Please watch your email and check the site for your name, so that we can collect your shipping information and you can get your gift by Christmas.
This giveaway is CLOSED.
Be sure you've entered all the giveaways in our 2009 Gift Guide and Giveaway event.