Teaching youth girls in Sunday School has piqued my interest in available fiction for teens. I like to know what they're into and how I can relate better to them. Also, since I have a tween, I like to see what's on the reading horizon for her. I haven't been impressed with the current popular fare. That's why I was ecstatic to find author Sarah Anne Sumpolec's series Becoming Beka.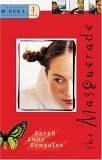 The 5-book series follows Beka Madison through her Junior and Senior years of high school. The first book, The Masquerade, begins a few months after Beka's mom dies in a car accident. Harboring a secret she can't bear to share, Beka has completely isolated herself from her family and classmates. Lori, a new girl at school with a secret of her own, crosses Beka's path. The two become friends just as the scheming and popular Gretchen suddenly draws Beka into her circle. And what's up with the oh-so-cute Mark, who's suddenly paying Beka a lot of attention? As Beka navigates the tough waters of high school, she feels more and more alienated from her Christian family. Will she ever find a place to fit in?
I confess, I devoured this series. Beka wrestles with her faith and finding God's will for her life, and I was anxious to find out where the journey would take her. Sumpolec has created very real characters and handles issues that most teen girls face today. These books would be a great gift for any teen girl.
Melissa has been captivated by books for as long as she can remember. She resides in Virginia and blogs at Breath of Life.

The wonderful people at Moody Publishers are giving away one copy of The Masquerade to four winners. But that's not all. One lucky winner will receive the complete Becoming Beka set! (U.S. Residents only)
This giveaway is now closed.
Entries will be closed on December 8, and we will announce the winners on December 9. Please watch your email and check the site for your name, so that we can collect your shipping information and you can get your gift by Christmas.
Be sure you've entered all the giveaways in our 2009 Gift Guide and Giveaway event.