When holiday shopping for kids, there's always the factor of finding something unique, and the nine to twelve year old set can often pose a challenge, but it's always safe to check out the latest offerings from the kooky folks at Klutz. (And I say kooky with all due respect!) With a wide variety of activity books in their gift center, it's difficult to not find something just right. As the mom of a nine year old boy, I have to say that two specific offerings stand out. Bonnie Burton brings us Draw Star Wars: The Clone Wars– the must-have drawing guide for any true Star Wars fan, and Pat Murphy, along with the Scientists of Klutz Labs, presents Invasion of the Bristlesbots, with which kids can transform two toothbrush heads into robots.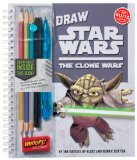 Now, the very cool thing to this mom is that Draw Star Wars: The Clone Wars presents the process of drawing in very logical and easy to follow steps, encouraging young artists to begin with stick figures, add in basic shapes next, and finish by finalizing the fine details. Translucent pages lay over familiar Clone Wars character images, ready to be traced for practice. Complete with sketching pencil, black marker, colored pencils and an eraser, kids have everything they need in way of tips and instruction as well as materials and tools. My own son is just beginning to show interest in the visual arts, so this book will fit perfectly in his stocking this year!
Want to get a sneak peek at the book? Check out the official product page, or watch the promotional video, which ends with a Yoda-esque declaration of how valuable this book could be to your own young jedi artist.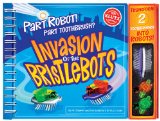 Now, two toothbrush heads and little colorful motors are the provided materials for the activities described in Invasion of the Bristlesbots, a truly unique activity book for kids. With a cool variety of suggestions for mazes, races, and even sumo wrestling, I picture this being a Klutz book that gets lots of action and laughs. I personally love the directions for using colored paper clips to transform the bristlebots into insects and spiders- something I can see my own son fiddling away with for long periods of time.
Check out their product page for more images, and even a little video of the bristlebots in action, just in case this whole wacky idea is difficult to imagine.
Jennifer reviewed the Encyclopedia of Immaturity Vol. 2 last month on 5 Minutes for Giveaways, and here's a bit of what she had to say about it.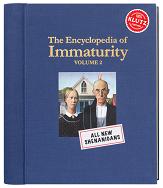 The Encyclopedia of Immaturity: Volume 2 is a lot of fun. While I initially thought that it was targeted right to boys (and immature can't-grow-up men), my 11-year-old daughter found a lot to like in here, including how to make a diamond ring (dime-in-ring out of a dime and a dollar bill), hand faces, do some magic tricks and play the spoons.
It's quite sturdy, with a canvasy cover, covered spiral and thick pages — designed to hold up to lots of use and abuse. Check out the page for the Basketball Egg Launch for a great example of what you can expect.
If you're in the mood for some of Klutz's other fun selections, you should know that you can receive 25% off your order when you sign up for the newsletter, and through December 3rd, you can get 20% off AND free shipping on orders over $40 (use discount code SHIP at checkout for standard U.S. shipping only), or use HOLIDAY25 through December 16 to receive 25% off your entire order.
Dawn loves the Klutz books, and not just because of the former childhood nickname coincidence. Follow her at my thoughts exactly, for more wackiness, cute kids, and book talk.
Jennifer's parents favored the ironic "Grace" nickname, but she is also a huge fan of all things Klutz. She blogs at Snapshot.

Two of you (U.S. residents) will win a set of all three titles, perfect to dole out at Christmas or upcoming birthdays or delight your own child.
Entries will be closed on December 8, and we will announce the winners on December 9. Please watch your email and check the site for your name, so that we can collect your shipping information and you can get your gift by Christmas.
This giveaway is now closed. Thanks.
Be sure you've entered all the giveaways in our 2009 Gift Guide and Giveaway event.