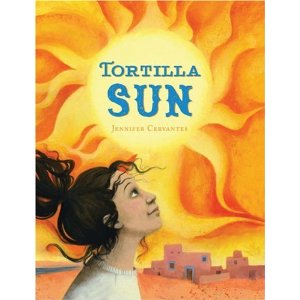 Tortilla Sun is set in a small pueblo town in New Mexico. The setting is rich. I could taste the tortillas that Izzy made with her grandmother, or shall I say I wish I could have tasted them. I could feel the hot sun and envision adventurous young teens Mateo and Izzy with temples wet with sweat and cheeks red from exertion after exploring.
Izzy is a writer, and the storytelling by Jennifer Cervantes is quite lyrical, so in addition to those who enjoy a story with some magical realism, a child who loves the written word — on the page or the stories that she creates — would probably identify with Izzy.
She's spending the summer with her grandmother while her mother is working overseas. She learns a lot about her father, who died before she was born, and of course she learns a lot about herself too.
Because the pace is slow and the writing is so beautiful (and it's relatively short — 224 pages in a fairly large font), this was a great book to read aloud. If you are out of the habit of reading aloud to your older children who can read independently, I recommend that you revisit the tradition. I hope you get as much enjoyment out of it as we do. I wrote more about why I read aloud to my tween at my blog Snapshot.
Read an excerpt of the book to find out more about it.
There is no objectionable mature content in this book, but death is a definite theme, so it's best for kids 10 and up. It reads like a classic, like the kind of book I read when I was growing up, free of cell phones and kids who want to grow up too fast.
We have a copy to give away to one of you (U.S. and Canadian addresses are eligible). Leave a comment if you'd like to win. We'll announce the winner on June 16.
THIS GIVEAWAY IS CLOSED.
Check out our current giveaways. Subscribe to our feed. Follow us @5M4B on Twitter.
Jennifer Donovan blogs at Snapshot about life with her 6-year-old son and 11-year-old daughter.