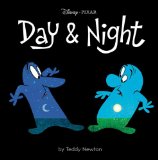 If you were among the summer moviegoers packing into theaters filled with excited children awaiting the start of Pixar's Toy Story 3, then you had the pleasure of viewing Day & Night, the animated short that preceded the main feature. I know that my kids and I cracked up at the antics of these two completely opposite creatures, but I had no idea that Disney Pixar worked in conjunction with Chronicle Books to create a picture book of the same title.
Teddy Newton, the film's director, brought the spirit of the movie to the pages of the small book Day & Night, with a narrator telling the story in brief sentences. The scenes in the book may not be exactly the same as in the animated film, but the feelings remain unchanged. While their differences spark confusion and aggression at first, they soon come to find that those very differences can be quite remarkable. Lo and behold, they also just might realize that they're not as different as they believed.
On screen, the images were the result of a combination of 2D hand drawn animation and 3D CGI, according to the Wikipedia entry on the film Day & Night, and were bold and bright. In the book, they have an "old school" cartoon quality in my opinion, with the thick black outlines of their large eyes and noses and the simplicity of the color schemes, which is appealing in a different way.
Having seen the movie, which was the first trip to the movie theater for my two youngest, the kids all adore Day & Night. Do you think your kids would too?
Chronicle Books is offering one copy of Teddy Newton's Day & Night, autographed to boot, to one lucky 5 Minutes for Books reader. Simply leave a comment here to be entered. (U.S. and Canada residents only), and we'll announce the winner in our regular giveaway spot on Wednesday, 9/15.
For more fun, check out some original sketches and commentary on the making of the book Day & Night in the Chronicle Books video Behind the Scenes of Day & Night with Teddy Newton.
This giveaway is now closed.
When Dawn's not trying to recuperate after a summer of DIY (which included the fun of bringing a toddler and preschooler to the movie theater- ACK!), she could very well be reading or blogging away at my thoughts exactly.