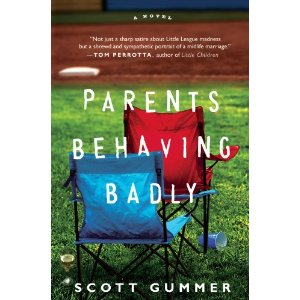 The endorsements for Scott Gummer's novel Parents Behaving Badly tell you what to expect. A quote from Tom Perrotta, well known for his novels that satirize and comment upon suburban life, is featured on the cover: "Not just a sharp satire about Little League madness but a shrewd and sympathetic portrait of a midlife marriage."
Endorsements from Cal Ripken and Hannah Storm are quoted on the back cover, focusing on the parents who have basically taken the fun out of baseball.
There are things that I like about novels that are meant to be social satires. They are usually funny, and do open doors into the way people live and the thoughts people have that I like to ponder. However, they are also usually dark, offering a picture of how things are instead of hope.
I think that I'm learning that this isn't my favorite genre of fiction, even though I liked Jonathan Franzen's novel that fits squarely into this category, Freedom. I liked it a lot — more than I thought I would have, but I honestly think that the phenomenal audio version had something to do with it.
I did like Parents Behaving Badly, and though I alluded to dark satire with no hope, I wouldn't put this novel in that category. There is a lot of hope — hope for revival in a marriage, hope for a father's relationship with his teenage daughter, hope in making peace with one's past. I most enjoyed the themes of returning home, since the novel takes place shortly after Ben and Jili Holden move from Manhattan back to the California town where they grew up. I also enjoyed the accurate picture of a family of tweens and teens. They are funny, and they are totally real — likeably imperfect.
But in the end, it left me a little unsatisfied, partly because it felt like a man's novel to me. Perhaps it was all the Little League plot, or the Father-Son ghosts that haunt Ben, and definitely due to the man's point-of-view (and thoughts) regarding marriage and sex. That said, these very elements could make it the perfect Father's Day gift!
Jennifer Donovan blogs at Snapshot about her life and family, although not as much as she used to, because of the demands of her 6-year-old's rigorous rec-league baseball schedule.