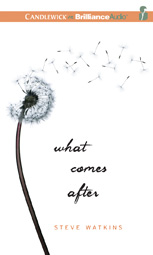 What Comes After by Steve Watkins reminds me of why I love Young Adult fiction. I love reading about young women who are coming into themselves. They are so sure of themselves, yet reading as an adult, I can see where they are so wrong. But we learn from our mistakes, and that confidence that just seeps into most adolescents is important later in life.
I know that I'd have loved this kind of rich treasure to choose from when I was in high school, but instead I was reading Danielle Steel and Stephen King. I know that some parents are concerned about the explicit language and sexual content in some YA books, but I think the key is getting the right book into the hands of the right reader at the right time in their life. I think the biggest mistake is not distinguishing between middle grade YA and the true young adult fiction that is meant to be enjoyed by a high school or even late teen reader, and it certainly is going to be more relevant to her life experience than adult mass market fiction.
This book reminds me a lot of The Sky is Everywhere (which I also enjoyed as an audiobook), though this one is not quite as explicit. However, both books deal with the affect of grief on a young woman's life and each features strong young women protagonists.
What Comes After tells 16-year-old Iris' story. After her father dies, Iris is pushed from her home in Maine to her aunt's farm in poor small town North Carolina. The aunt doesn't want her. Her mother didn't even want her, having abandoned her years earlier.
But Iris is strong and sensible, and so she eventually adjusts, although it's tough going for a while. My heart ached for her as she suffered abuse in the form of neglect in her aunt's house – both lack of fundamental care and certainly lack of any sort of love or affection, but seeing her persevere strengthened my heart as well.
There were several easy-outs the author could have taken to wrap this up in a fairy tale way, and I honestly expected a couple of those plot twists to come, but he resisted and it makes for a much more realistic and unexpected story.
CONTENT NOTES:
There is some swearing in this novel (though not too much, as I recall), and some definite mature themes, mainly a truly mean and careless aunt who Iris has to live with. There is also some drinking and other teen activities (shoplifting and some sexual activity that is mentioned but not explicit), but none of it is really glorified. However, unlike some YA fiction (including The Sky is Everywhere, mentioned above), I think that this novel would be okay for a younger teen, depending on what kinds of stuff she usually watches/reads. I haven't handed it over to my almost 13-year-old daughter, but if I found out she had read it on her own, I wouldn't be too upset about it.
AUDIO NOTES:
Emily Janice Card is a wonderful reader. She voices teenager Iris in a believable way, and brings the other characters to life as well. Teen angst and a strong narrator have made YA audiobooks a favorite around here!
Jennifer Donovan might find realistic fiction about realistic teen behavior and attitudes harder to read in a couple of years when her daughter is closer to driving age. For now she blogs at Snapshot about life with an adolescent daughter and a feisty seven-year-old son.