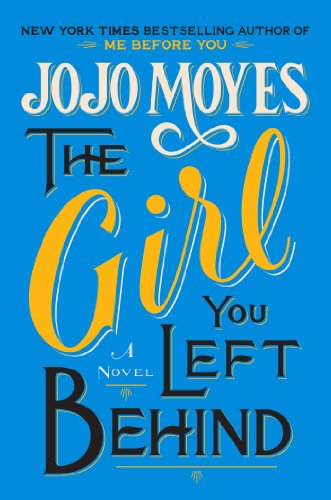 The Girl You Left Behind is the 3rd novel by JoJo Moyes that I've read, and she's a strong three for three (Read my reviews of The Last Letter from Your Lover and Me Without You).
The Girl You Left Behind is a painting, and a person (well — two people, but we'll get to that later). We first meet Sophie Lefevre in 1917 France. Her husband Edouard is serving the French military in the first World War, and she has been left behind in the village of St. Peronne, which is now occupied by the Germans. Because she lives in the hotel her family ran before the war, the Germans order Sophie and her sister Helene to cook the officers dinner each night. They don't want to, and fear what it will mean for their reputation in town, but they have no choice. And the leftovers from the food supplies help keep them and their younger brother, and Helene's children well.
The Kommandant takes interest in the painting that hangs in the hallway of The Girl You Left Behind. Reluctantly, he and Sophie become friends, mostly over his appreciation of the painting, which Edouard, who trained under Matisse, painted of Sophie before they were married.
Flash forward almost 100 years, and we meet Olivia Halston. The painting was a wedding gift from her husband. But she too has been left behind, when he died suddenly four years before. When Olivia is sued by the Lefavre family to get it back under the Geneva convention, she looks into Sophie's life to try to figure out what happened. Olivia feels like the painting belongs with her, like she truly understands her, and she also feels as if The Girl is the only person who understands her and doesn't want to let her go.
The characters, the two different settings, the painting — they all come together to create a story that I loved reading.

Win it!
The giveaway is closed.
Check out our current giveaways. Subscribe to our feed. Follow us @5M4B on Twitter or on Facebook.