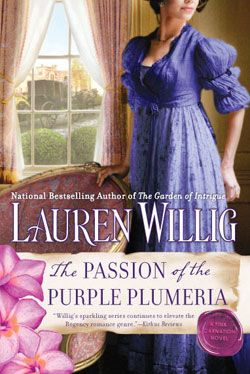 The Passion of the Purple Plumeria by Laen Willig is the latest installment in the Pink Carnaton novels that follow the female led spy ring for England as it is wreaking havoc with Napolean's plans in early 19th century England, France, and more. It is a "rollicking fun" kind of book that doesn't take itself very seriously, which keeps it fun rather than eye roll inducing.
There are two aspects to the story, the 2004 version where Eloise is a grad student researching the Pink Carnation for her thesis and living with her boyfriend Colin who owns Selwick Hall and the 1805 version that tells the story of the Purple Plumeria aka Miss Gwendolyn Meadows as they search, past and present, for the fabled Jewels of Berrar. The majority of the story andoopp focus is on the Purple Plumeria, and I'll admit that I sometimes forgot there was a 2004 segment to the book.
Gwen, along with her charge Jane Wooliston who is the actual Pink Carnation, are in Paris involved in intrigue and Tallyrand who apparently is using an opera singer to gain cooperation of an Ottoman ruler. When the opera singer declares that the ruler will side with the French if he's presented with the Jewels of Berrar, Gwen is determined to stop the plot. Unfortunately, Jane's younger sister Agnes has disappeared from her boarding school, which halts the investigation as Jane and Gwen head back to England, fearing that she's been taken as leverage because Jane is the Pink Carnation. When they arrive at the school, they meet up with Colonel William Reid, recently retired from the East India Company who has come to collect Lizzy, his half-caste daughter that he sent to England ten years earlier when she was only seven. Both girls are missing, and the two groups agree to combine forces. Not surprisingly, there are mishaps along the way of the investigation, and Gwen and Colonel Reid form a tendre, though they both are focused instead on saving the girls. Gwen, of course, is hiding much more from Colonel Reid about the abduction, which provides an additional complication – all in good fun, of course.
Back in 2004, Colin and his stepfather/cousin Jeremy, essentially mortal enemies, are asked by Colin's aunt (Jeremy's grandmother) to work together to find the jewels that are supposedly hidden in Selwick Tower. This portion of the story is far weaker in my eyes, though fans of the Pink Carnation series I'm sure wouldn't all agree with me. I'd actually be just as happy without the distraction, as amusing as it is in places.
This is a light read, and one I enjoyed. It essentially stood on its own – as it's the only book in the series I've read – though there were many characters and details that I could tell were missing from my knowledge. It didn't ruin the book by any means, but it would have been helpful to have more of the back story.
Written by Michelle who would love to have a parasol sword, though she would probably accidentally injure herself if she did. Instead, she collects kitchen gadgets and other fun toys of the modern era. See what she's up to via her blog Honest & Truly! or follow along with her on Twitter where she is also @HonestAndTruly.