In our school district, we're heading into the final week of summer break. The school supplies have all been purchased, the backpacks hang on the hooks at the ready, and new uniforms line the kids' drawers. All the material stuff they need is set, but what about the mental preparation for returning to a formal learning environment? Well, I've been trying to provide meaningful learning opportunities throughout the summer, and especially for my elementary school aged daughter, I've found Flash Kids to be an excellent source of skill practice and continued engagement.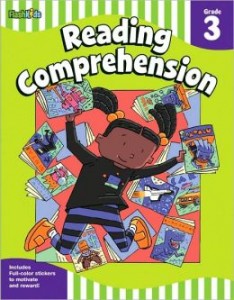 My daughter actually squealed when we received four different workbooks from Flash Kids, and she immediately dove right into what quickly became her favorite, Reading Comprehension. In this workbook, approximately 30 short passages are provided for children to read, including both nonfiction and fiction selections. Following each passage is a page that includes comprehension activities: true/false questions, crossword puzzles, short answer questions, or statements to place in the correct order from the story. The variety of topics covered and different types of activities keep children interested, and the passages themselves are actually well written and stimulating, a far cry from what I remember reading in those terribly dry testing materials as a child!
We also received Math Drills, Problem Solving, and Writing Skills workbooks at my daughter's academic level, and she's spent time working in all of these for the last couple of weeks. I like that there is a separate book for math word problems, as this often calls for a different type of thinking than when solving simple equations. All of the books feature cartoonish illustrations that help to illustrate the passages and problems, and they also bring a bit of levity to the work, helping to keep kids engaged.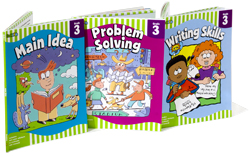 The Flash Skills series of workbooks feature about 60 pages of learning activities, followed by two pages of stickers and an answer key (but don't tell your kids… mine hasn't noticed yet!). Being on the thinner side, they don't look as intimidating to children, either. I especially like that in all the books we received, the sections are short enough that my daughter can choose a page and practice some skills for just a short ten minute period. When we get back into the school day routine, these books will be a great addition to our homework time session, offering her extra support in important skill development.
On their website, Flash Kids offers a variety of free downloads for preschool through grade six levels, and their selection of available workbooks is quite large and reasonably priced, even including writing workbooks for middle schoolers and a special section of "Gifted & Talented" learning materials. I would imagine that these workbooks could help provide material support for parents involved in homeschooling their children, as well.
Giveaway time! One lucky reader will be able to browse through the Flash Kids line and select two products to receive. In what subject area would be interested in supporting your child's learning? Tell us in the comments to be entered to win, U.S. addresses only, please. We'll announce the winner on 8/21. This giveaway is now closed.
If you're interested in reading what other parents and bloggers have to say about the Flash Kids learning materials, check out other posts on the blog tour.
Check out our current giveaways. Subscribe to our feed. Follow us @5M4B on Twitter or on Facebook.