As a book reviewer, I received a copy of this book for free from the publisher to facilitate this review. I receive no other compensation, and all opinions are always 100% my own.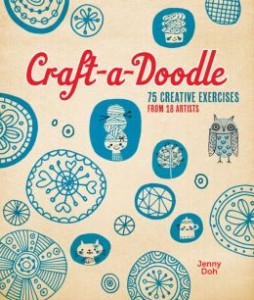 I am not at all a craft person. You might say that my writing up a review for these craft books is rather farcicle. But I have dreams, just like any other girl, and one of them is that some morning I'll wake up and actually BE crafty. So far no good but I go on wishing.
Although I am not a crafty person, I do really enjoy flipping through craft books. Why so? I do have something of an eye for how to decorate a house and I have a blend of vintage/Americana/rustic log cabin thing going on in my home which requires that I hunt down inspiration. I love making home and looking through such books feeds me, creatively.
Despite my deficiencies in the craft department, I can doodle and have made a great habit of doing so during the course of my lifetime. I was absolutely enthralled with Craft-a-Doodle
: 75 Creative Exercises from 18 Artists as it expands my doodling capabilities. Specifically in the area of drawing faces. (I'd take a picture of my budding skills but I have some pride issues.)
Craft-a-Doodle
is just plain fun as there are suggested activities, tips and tricks, and practical examples from 18 "real life" artists. The collective style throughout the book is rather whimsical and focuses on faces, using shapes and creating designs. Whether you are doodling for business or entertaining purposes, or just are doodling around with your kids, this book is plain fun.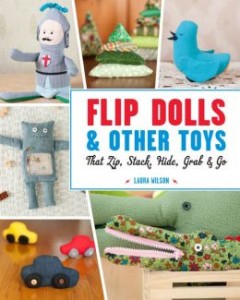 Now, Flip Dolls & Other Toys That Zip, Stack, Hide, Grab & Go
is one I accepted for review strictly for inspiration purposes. I cannot sew. (Don't bother trying to tell me that I can. I can't. It's a proven fact.) I made the mistake of sitting down to look through this book with my son by myself. He BEGGED me to learn how to sew just to make some of the toys in this book, which clearly have kid appeal.
The book opens by explaining what tools and materials you will need to accomplish the projects in this book. There is information on technique and also how to personalize your creations. Then it moves on into the patterns for making toys which you can stack, zip, play a little hide-n-seek with and also flip and turn. There is a cloth watch your child can wear on their wrist and also a George & the Dragon flip doll (which you turn inside out). Very cool super heroes can be created with your sewing machine, as well as a lie detector machine for your sleuthing types. Cute stuff! I regretted to tell my son that it is completely outside the realm of my capabilities to make a single one of these adorable items! Somehow the pictures were not as satisfying for him as for me but I enjoyed the thoughts and know what type of toys would be valued in our home (and used for decor purposes when they have been well-used). So I'll keep an eye out for similar toys or sewing talent! That's the best I can promise at the moment.
Many thanks to Sterling Publishing who sent the above copies my direction in exchange for my honest thoughts.
Carrie blogs about the things she believes in – including her lack of ability to craft – over at Reading to Know.