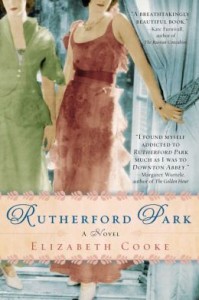 In 1913, England and the world are changing. The change is mirrored at Rutherford Park by Elizabeth Cooke where both above stairs and below stairs are having challenges. The book opens with Emily, a maid who has been seduced by someone she won't name and is pregnant.
It's Christmastime, and the son of the house, a wastrel in his father's eyes, pulls the maid aside in the greenhouse and presents her with a necklace and tells her it can never be before she can let him know that she's expecting. Devastated, she throws herself into the river on the property that night, but she's seen by the lady of the house – who regrets later not doing anything – and by grooms in the stables who follow her and rescue her before she drowns.
She goes into labor that evening at only six months and she doesn't make it, but her daughter does. Lady Rutherford tells no one in her family that the baby survived. She was always an outsider, coming not from a titled background but from moneyed trade married to provide income to maintain Rutherford Park, and her relationship with her husband is strained.
The book goes back and forth between the unrest below stairs with the servants forming their own rebellion with the times and not interested in following the strictures of the past and the great family who has their own woes. The son wishes to learn to fly planes, which his father feels is a waste of time. Lady Rutherford is convinced that her husband has been humiliating her since before her marriage as she finds out that a frequent visitor to the family home when a young man comes to the house claiming to be their son and demanding money.
As time passes, the son feels incredible guilt over the death of his lover – and presumed death of the child he didn't know about until he saw the baby bump as she lay unconscious on the bank of the river – spending his time drinking and lost. The two daughters of the family spend their time in London at the Marriage Mart, but Lady Rutherford can't present the face she needs to show society and retreats to Rutherford Park, unaware of her elder daughter's involvement with a Frenchman who claims to work for the French embassy whose father abandoned him at a young age.
The book is as complicated as the synopsis, and I've only hinted at half the plot twists and turns. There are so many characters and so much back and forth between groups of characters that it is sometimes hard to remember who is who. Harrison is a footman, and he seems threatening at the start of the book but is essentially a minor character who never delivers on his early appearances.
For that reason, I struggled to get into the book and truly enjoy it. The cover compares it to Downtown Abbey, which I've never watched so can't affirm or repudiate, but I can see where this would be an entertaining set of novels rather than cramming it all into one 300 plus page book. It would allow the author to tease out the nuances and develop the characters and the plots more thoroughly as the book takes us all the way through the start of World War I and the panic in France and England as country after country mobilizes and declares war.
I wanted to like this book, and by the time I was about two-thirds through it, I did begin to enjoy it more as various pieces began to be tied together more – another reason I feel this would be better as multiple books rather than just one. Part of the reason I began to enjoy it more was that I let go of my concern over remembering who some of the characters referenced were. The end though shows such beauty in so many relationships, which alone make me glad I read the book.
Written by Michelle who would love to be a Lady for a day but was once again reminded how many rules are in place that would chafe her. Instead, she's happy in her own ordinary Midwestern family. See why on her blog Honest & Truly! or follow along with her on Twitter where she is also @HonestAndTruly.