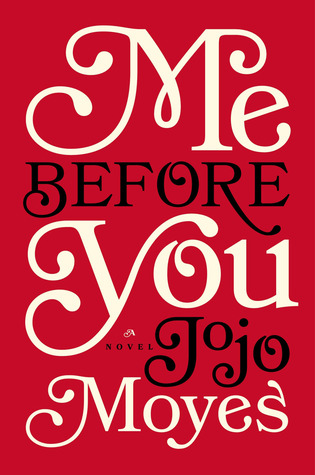 A couple of years ago, I read a novel by JoJo Moyes, The Last Letter from Your Lover (linked to my review). It's one of those books that surprised me and left a big impression.
Me Before You has just been released as a paperback, and I was offered a copy to review and another to give away. Reading my second book by an author who really impressed me made a little nervous, because I wanted to love it. Well I did!
Me Before You was a bit different, not quite as complex and subtle, yet no less enjoyable.
Louisa Clark is in her mid-20's, a working-class girl in a small town in England. She lives with her parents and her older sister and her son ("the smart one," until the unplanned pregnancy caused her to drop out of school). Her grandfather lives there, too. Between her mother and father helping to care for their grandson while Katrina works and their father who can't do much of anything for himself, everyone is a little worn down. The fact that layoffs have been threatened at her father's job for quite some time doesn't lighten the load. And then one day Louisa gets immediate notice that the bakery where she works is closing. She's got to find a job, because the family is barely making ends meet, but there aren't many possibilities.
When she's offered a job as a "companion" to a quadriplegic man, a 6-month contract with a great wage, she hesitates. She's never cared for an invalid before. She's not even very good with her own grandfather. But duty to her family calls, and she takes the job. She's surprised to find a man not much younger than her in the chair and quickly figures out that his mother has hired her to try to cheer him up. It's no easy task. He's bitter about the accident that changed his life so drastically, and he doesn't make Louisa's job easy. Eventually, her bright personality finds a way in to his dark soul, and once he opens up to her, he begins to help her change her life too.
These characters were wonderful. They were somewhat stereotypical — what vibrant young man wouldn't become bitter after getting paralyzed in an accident? — and I saw some of the plot twists coming, but others surprised me completely. As I became involved in the characters' lives and futures, I was worried about how it might come out.
I'm keeping mum about that, but I can say that I am glad I read this book. I loved it.
I'm happy that I can offer this up to one of you (U.S. shipping only). Just leave a comment below if you'd like to win. The giveaway is closed.
The winner of Capturing Life Everyday is #4 Annette, This Simple Mom.
The winner of A Walk Through the Dark is #5 Ellie.
Check out our current giveaways. Subscribe to our feed. Follow us @5M4B on Twitter or on Facebook.