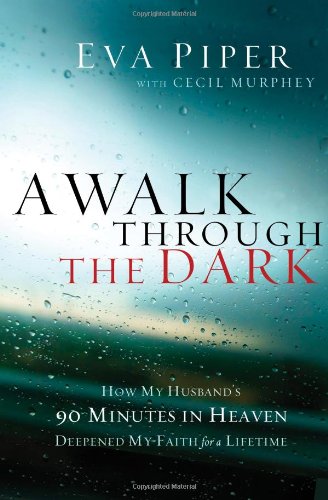 I accepted Eva Piper's A Walk Through the Dark: How My Husband's 90 Minutes in Heaven Deepened My Faith for a Lifetime for review, not because I am a particular devotee of Don Piper's 90 Minutes in Heaven: A True Story of Death and Life. In fact, I haven't read that book, though I have heard him share bits and pieces of his story.
No, I wanted to read Eva Piper's story because I have definitely walked through some dark periods in my life over the last 10 years. In particular, in the last two years I've faced many trials. And as Eva Piper's subtitle proclaims, my faith has been strengthened as a result of those trials. I have seen fruit as my Christian character has developed as a result of the struggles. But each time I'm hit with a dark situation, I have to remember what to do. I need encouragement from God and from His people so that I am able to stand.
By sharing her own story of being a caregiver to her husband for many many months after his body was practically destroyed after a car accident, Eva Piper offers that type of encouragement. In particular, if you are dealing with a long illness of a loved one, or some sort of recovery, her words will ring true. For five months last year, that was my story, as I saw my mother through a short but harrowing battle with brain cancer. My role as caregiver to my grandmother continues. Though she's doing well now, I know that there will be times when she is needier.
But because I've been walking through a different type of struggle in the last 6 months, I know that the lessons she's learned will help anyone who feels as if their faith is being stretched or tested. Eva Piper doesn't try to answer the big questions, like "Why did this happen?" — though she does acknowledge that we wonder why — but instead she shares how she coped. And since the story is written more than 20 years after the accident and recovery, she has the perspective to offer about the long-term affects, positive and negative, that dealing with this crisis brought. One of my favorite chapters was towards the end where she shares about other dark periods that she's had to walk through, because they reminded me that they will continue to come.
In addition to a caregiver or someone walking through some sort of dark, uncertain, inexplicable situation, I recommend this book to anyone who wants to learn what is going through someone's mind as they sit by a hospital or sickbed for days or weeks or even years. Eva Piper is very forthright about what helped her and what did not. We never know what to do when our loved ones face crisis, but we always want to help. Eva encourages those of us who are in need to actually let people help us, and also gives those who want to help some advice about how to be most effective.
This memoir of this particular time in her life does what I think memoir should do: it encourages those of us who are in a similar situation, but also serves to educate those who have not been in that situation, with the result of being more compassionate to those who are.
Win it!
We have a copy of A Walk Through the Dark for one of you (U.S. only). Just leave a comment if you'd like to win. We'll draw a winner and announce it in our August 7 giveaway column.The giveaway is closed.
Check out our current giveaways. Subscribe to our feed. Follow us @5M4B on Twitter or on Facebook.