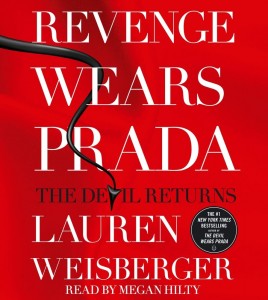 Last month I (re)watched one of my favorite chick flicks, The Devil Wears Prada movie. In anticipation of the audiobook copy of Revenge Wears Prada: The Devil Returns that I knew I had coming, I also finally got around to reading the book, which I had purchased on a clearance rack long ago.
The book and the movie are different, but the two books sort of stand alone. Yes, the backstory could be helpful, but this is a completely different story, taking place 10 years after Andy walked out on the devilish boss Miranda Priestly. She's started her own magazine, an upscale wedding magazine called The Plunge, but will Miranda try to get her hands on it?
I enjoyed this book for what it was, a light mindless read, but I think I would have enjoyed it more 15 years ago or so when I was starting out as a wife/mom, which is where Andy is in this novel. There were some plot twists that I sort of saw coming, but I wasn't expecting high literary style, so that didn't bother me. There were some other elements that caught me totally by surprise, so my interest was held.
If you liked the story from the first one, either the book or the movie — as long as you don't think too hard about what happened and how that bears on what's happening now — I think you'll like this one if you're looking for a light chick lit novel.
NOTES ON THE AUDIOBOOK:
Megan Hilty is the reader, and she has the appropriate tone to voice Andy and tell her story. She's lighthearted and confident when needed, yet the times when she doesn't have all the answers, that uncertainty comes through as well. This was a light read and an enjoyable listen. You can hear an excerpt at the Simon & Schuster audio page.