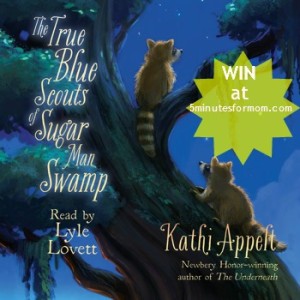 The True Blue Scouts of Sugar Man Swamp is a new children's novel by Newbery honoree Kathi Appelt. It's a family story, focusing on those who live in the Sugar Man swamp. That includes Grandpa Audie (from his boyhood), and his grandson Chap, who works with his mom selling sugar pies at a cafe in the swamp. Another family are the true blue scouts themselves, raccoon brothers, as well as snakes and wild hogs.
I was offered a last-minute giveaway from Simon & Schuster Audio, and even though I knew I wouldn't have time to listen to the whole book, I wanted to give it a try. I've listened to half of it so far, and I love the mix of realism and fantasy. Animal-loving kids in particular will love it. Here's the publisher's description to fill in the gaps from mine:
Raccoon brothers Bingo and J'miah are the newest recruits of the Official Sugar Man Swamp Scouts. The opportunity to serve the Sugar Man—the massive creature who delights in delicious sugar cane and magnanimously rules over the swamp—is an honor, and also a big responsibility, since the rest of the swamp critters rely heavily on the intel of these hardworking Scouts.
Twelve-year-old Chap Brayburn is not a member of any such organization. But he loves the swamp something fierce, and he'll do anything to help protect it.
And help is surely needed, because world-class alligator wrestler Jaeger Stitch wants to turn Sugar Man swamp into an Alligator World Wrestling Arena and Theme Park, and the troubles don't end there. There is also a gang of wild feral hogs on the march, headed straight toward them all.
The Scouts are ready. All they have to do is wake up the Sugar Man. Problem is, no one's been able to wake that fellow up in a decade or four…
NOTES ON THE AUDIOBOOK:
If I could pick someone to read me to sleep, it would be Lyle Lovett! His rendition of The True Blue Scouts of Sugar Man Swamp is wonderful (click through to hear an excerpt). The novel is told as a story, so it makes a perfect audiobook listen.
Win it!
This giveaway is being hosted at 5 Minutes for Mom. Go over there and read my post about Enjoying Audiobooks with your Family. Leave a comment here telling me what interests you about this book, but be sure you leave a comment over there first to start your entry process.
We have THREE copies of The True Blue Scouts of Sugar Man Swamp to give away, as your choice of MP3 download or CD format.
THE GIVEAWAY IS CLOSED.
Check out our current giveaways. Subscribe to our feed. Follow us @5M4B on Twitter or on Facebook.