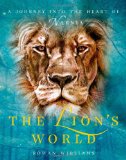 I read this book in May, when I was recovering from a nasty bout of flu, and I loved it. It inspired me to reread all the Narnia books (except The Lion, The Witch and the Wardrobe. We had at least 2 copies, both of which have disappeared). But, when I went to write up my review, I found the combination of time and illness meant I didn't remember it very well. So I reread it, and enjoyed it just as much this time round–maybe even more. This book is one I'm planning to keep around and reread from time to time. However, this review is a bit late as a result.
The Lion's World
is a sort of theological criticism (like a literary criticism) of Lewis' Narnia works, also pulling in some of his other works of fiction. Author Rowen Williams, former Archbishop of Canterbury, takes a long look with fresh eyes at what makes Narnia so enduring, so meaningful to generations of readers. He takes an unflinching look at Lewis' weaknesses as well, pointing out ways he was a product of his time as well as ways he transcended it.
Williams recognizes that we live in a time when many people have rejected Christianity without understanding what they are rejecting, while at the same time being familiar enough with the story to not want to hear it, or look at it afresh. Lewis' genius, he argues, is that he has imagined a way for us to meet the story anew, to encounter the holiness and justice and love and joyfulness of God in a manner that sweeps past our defenses. "How do you make fresh what is thought to be familiar?" he argues. "Try making up a world in which these things can be met without preconceptions, a world in which the strangeness of the Christian story is encountered for what it is, not as part of a familiar eccentricity of behaviour called religion." (p 19)
With measured, elucidative prose, Williams takes us through the various points of the Narnia series, from addressing the arrogance of the human spirit (he points out that in Narnia, you can be on the same level as a badger or a mouse, while at the same time reminding us that to be a son of Adam or daughter of Eve is a high calling), to propounding upon Aslan's words that we are shown no story but our own, to the lessons of self-knowledge and maturity, abstract concepts put in concrete stories.
Last but not least (well, maybe least), The Lion's World
has lovely illustrations by Monica Capoferri. I mention these because I am kind of militant about the classic illustrations by Pauline Baynes as being the only ones I like, but I loved these as well.
I enjoyed this book hugely both times through. I read a review in which the writer described it as watching two old friends having a conversation, but with the 3rd presence of the Lion, encouraging us to experience the higher joys of his new creation. (The review was by N.T. Wright) I highly recommend it for any adult who has loved Narnia, or ever wondered what all the fuss was about.