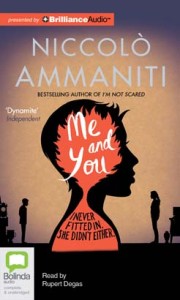 Lorenzo is a 14-year-old boy. He's a bit of a misfit, and though his parents support him, they wish he would make more friends. He's been under the care of a therapist trying to help him reach out (I think he's somewhere mildly on the spectrum). He himself vacillates between being happy on his own and wanting to fit in with the others at school.
This desire to fit in causes him to fantasize about tagging along on the ski trip he hears the popular kids talking about. He voices the fantasy to his mom, which results in a spiraling lie that ends up with him spending the ski week hiding out alone in the basement of his building.
He's an only child, sort of. He has an adult half-sister from his dad's previous marriage who he barely knows, due to her own issues and problems.
This was a fairly short and straightforward read. I am unfamiliar with the Italian author Niccolo Ammaniti, and while Me And You didn't hit a home run for me, I was interested enough to keep an eye out for future offerings.
Fans of The Curious Incident of the Dog in the Nighttime might want to check out this one.
NOTES ON THE AUDIOBOOK
This is a novel told in the first-person, and those are always great audiobooks to listen to. Reader Rupert Degas does a wonderful job voicing the teen protagonist and infuses his narration with the independence and uncertainty and fear and adventure that Lorenzo feels throughout the book.
Find out more at the Brilliance Audio site.
CONTENT
I think this is published as an adult novel, but it would certainly be fine for a teen. I wasn't "reading" it as a teen novel, so I'm not exactly sure of the content. I'm sure that there's some language, and there are also some adult elements such as drug use, but they are seen through the eyes of Lorenzo.