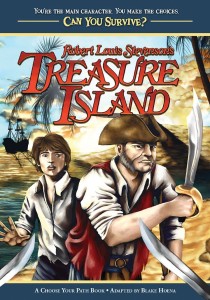 The gold of Captain Flint is buried somewhere on Treasure Island, and only you have the map to find it. You and your friends set sail to gain riches beyond your wildest dreams, but when your crew reveal themselves as pirates, your island adventure becomes a dangerous struggle to survive. Do you have what it takes to locate the hidden treasure, or will Long John Silver and his pirates steal your wealth – and your life? Step into this adventure, and choose your path. But choose wisely, or else…
I loved these kinds of books when I was a middle grade reader myself, so when I saw the Can You Survive? series that adapts classic works into this format, I was interested in checking them out. I read Call of the Wild a couple of years ago, and Robert Louis Stevenson's Treasure Island: A Choose Your Path Book (Can You Survive?) came to me last year as a Cybils nominee. Because of the onslaught of books, I didn't write all of them up and this was one of them.
When Nancy was offered a review copy of Twelve Labors of Hercules and a giveaway of 10 of the Can You Survive books, I decided to post about this one as well. Although this book and each complete story is pretty short, it's also pretty intense in this case, and is sure to keep adventure-loving kids interested and wanting to read more.
Click over to 5 Minutes for Mom to read Nancy's review and enter to win a set of 10 of these books.
Check out other Middle Grade reading recommendations at Shannon Messenger's Marvelous Middle Grade Monday.