Don't even waste your time reading this review. Just go find a copy and start reading! I first heard about this series because Sherry of Semicolon fame wrote up a review of the third book in the series, The Island of Mad Scientists (published by Kids Can Press). Sherry said it was laugh out loud funny and since I know we share a love of laughter over Wodehouse, I figured it was a safe bet that I'd like this series. And it was. Safe. Very safe. I LOVE this series.
The books begin with the title, The Strictest School in the World — Being the Tale of a Clever Girl, a Rubber Boy and a Collection of Flying Machines Mostly Broken or The Mad Misadventures of Emmaline and Rubberbones. Yup, that's the title and, as Sherry said, it should tell you everything you need to know about the books.
In the first tale we meet Emmaline Cayley, a fourteen year old self proclaimed aviatrix. She is on a quest to build a flying machine but her mother feels it would be more important to be sent to a finishing school for young ladies were she can learn the art of, well, being more feminine. As it turns out, she is sent to what truly is The Strictest School in the World, St. Grimelda's School for Young Ladies, where the matron is unbearable and big ugly "birds" guard the fortress-like compound. Thank goodness for Emmaline though, she has a crazy and eccentric Aunt Lucy who, along with her body guard and a young boy named "Rubberbones", she is rescued from the compound and released for more adventures!

In The Faceless Friend — Being the Tale of a Criminal Mastermind, His Masked Minions and a Princess with a Butter Knife, Involving Explosives and a Certain Amount of Pushing and Shoving (I can't stop laughing just typing that!) the story is centered around trying to save Princess Purnah from a ruthless gang of brutes who want to kidnap her. (Princess Purnah, btw, was one of Emmaline's inmates classmates at St. Grimelda's and managed to escape along with Emmaline to freedom. Sherlock Holmes makes an appearance in this book, along with all of the old fun loving characters in this sequel that does not disappoint.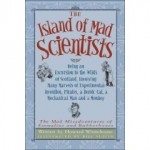 Now, if this next admission is not a strong recommendation, I don't know what is. I crashed through the first two books (laughing out loud all the way) so that I could publish a review of them. It was a delight to do so but now I'm in the middle of the third book, The Island of Mad Scientists — Being an Excursion to the Wilds of Scotland, Involving Many Marvels of Experimental Invention, Pirates, a Heroic Cat, a Mechanical Man and a Monkey, and I really just want to savor it. I'm about half way through and am wanting to finish up this review so that I can just linger on in the third book for awhile. I want to linger because I haven't heard tell of a fourth book just yet and I'm not sure how long I'm going to have to wait for it so I need to take my time with this tasty treat.
I love this series. I heart this series. I think fantastically wonderful thoughts about this series. I'm going way overboard stressing my point, don't you think?
In short, I cannot thank Sherry enough for highlighting this book and I'm pretty sure you'll thank me too if you just go out and pick up a copy. You know you want to . . .
Carrie comes by her book obsession honestly, having descended from a long line of bibliophiles. She blogs about books regularly at Reading to Know.