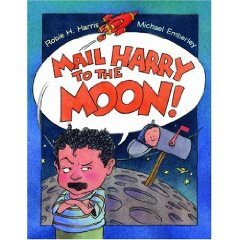 Young children react in different ways to the addition of a new sibling. In this story, baby Harry irritates his older brother (identified only as "me" since he's telling the story first-person). Big brother is tired of the spitting up, wailing, and grabbing that go along with having a baby brother in the house. In fact sometimes he just wants to Mail Harry to the Moon!.
This picture book has simple text that preschoolers can definitely relate to, and a message about familial love (since he decides after all that little brothers aren't all bad).
Another recent book by Robie Harris, The Day Leo Said I Hate You!, will resonate with older preschoolers and mothers alike. Children get frustrated with rules and disappointments and as they learn to manage their feelings and their words, sometimes they let those not-so-nice three little words fly, "I hate you!"
Molly Bang's own bright and scribbled illustrations underscore the emotions conveyed by the story, and Leo's own drawings are used as an element of the story as well. I think it's a great way to open a conversation (or simply let the story teach without further pressing the issue).
Managing Editor Jennifer Donovan also blogs at Snapshot about life with her tween daughter and preschool son.