As 2008 came to a close, I felt like I was in a reading rut. I decided to look for something different. As I perused the Times' Bestseller List, I noticed Toni Morrison's A Mercy. Although I haven't read any of her previous works, Toni Morrison is a Nobel Prize-winning author, so I chose A Mercy as one of my first books of 2009.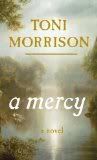 A Mercy is set in the Americas in the 1680s. The slave trade is beginning to grow, and race and religion play a vital role in the communities scattered throughout the wilderness. When visiting a man who owes him money, Jacob Vaark is offered a slave as payment. Florens, a young African-American girl, is pushed forward by her mother to go with Jacob. This moment of Florens' life defines her, and the consequences of this action reach far into the future.
At the risk of making myself sound simple-minded, I will confess that at the end of the first chapter I thought, "I have no idea what I just read." You can imagine my relief when I later saw a national review of the book that mentioned the first few chapters are challenging (I haven't lost all my brain cells). Each of the chapters in A Mercy is told from the viewpoint of a different character. Ms. Morrison, however, doesn't label the chapters; it is the reader's job to figure out who is talking or being talked about. The chapters also go back and forth from the present to the past, which added to my confusion. By using the inside of the book jacket and by rereading a few of the beginning passages, I was able to sort things out in my mind and proceed.
I am glad I did.
A Mercy is a story about slavery, but it is much deeper than a simple tale about a young African-American girl. The main characters of the story are women who, although they are different races, are all slaves on some level. Being a woman during this time was difficult. I was fascinated by the lives of these women, as well as the clashes between the Native Americans, the settlers, the slaves, and those from different religious backgrounds. This is not a heartwarming story, but Ms. Morrison's writing is beautifully descriptive and thought-provoking. My only disappointment was that the story was so brief; I felt it ended as I was becoming invested in the characters. I would have liked to journey with them a little longer.
Although I wouldn't list A Mercy as one of my all-time favorite books, it was certainly worth reading. My 2009 book list is off to a good start.
Lauren is a wife, a mother of two, and an avid reader. She blogs at Baseballs and Bows.