I admit to being a semi-newbie to YA literature. Sure, I was obviously a 'young adult' back in the day, and I've been an avid reader my entire life, so this must have been my choice genre at some point. As an adult, though, my tastes have mostly run toward contemporary fiction primarily, and I've sometimes wondered why some adults opt to read so much literature written toward a YA audience. As a reviewer here for the last year, I've had the opportunity to read a handful of YA novels, and I'm starting to figure out the appeal.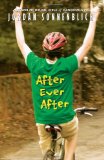 That understanding comes a heck of a lot easier after finishing a book like Jordan Sonnenblick's new After Ever After. The story of what it's like to be an eighth-grade cancer survivor is told from the perspective of Jeffrey Alper, who was diagnosed with leukemia when he was four years old. Now that he's past the all important five year remission mark, he's free to live the life of a normal kid. Right? Unfortunately, it seems as if a new normal is established once you live the post-cancer life, (the after "ever after" part) and for Jeffrey this includes a number of attention and learning challenges as a result of the treatments he received. With a best friend who is also a childhood cancer survivor, and a new girl in his school (who just happens to be beautiful and completely distracting in science class), eighth grade is certainly going to be interesting.
I must admit that once I closed this book after reading the final pages, I needed a few moments alone to just 'cry it out.' While I'm still finding my way through YA literature, my gut tells me that this book has the perfect combination of an authentic adolescent narrator and a story line that simultaneously tackles serious, real-world issues while also nailing the little things that are so huge to teenagers. What I didn't realize before I read it, was that this is a sequel to Sonnenblick's 2006 YA novel Drums, Girls and Dangerous Pie, which tells the story of Jeffrey's older brother, whose own eighth grade year will always be remembered as the year his little brother got cancer. I can definitely say that this second book stands on its own, but I didn't hesitate to grab the previous book from the library shelf, and I'm finding it just as tender, funny, and touching as this one.
If you are already a fan of YA fiction, then the most concise thing I can say to you is this: go get this book. If YA isn't your genre of choice, but you enjoy a well-told story that evokes emotion and looks at the difficulties that life can bring through the eyes of a teenager, After Ever After is most worthy of your time. The press release that I got with this book also mentioned that the author's work has been praised by his former high school teacher… Frank McCourt. Wow.
After that kind of recognition, I realize that my application of a Five Star Reads label is less impressive, but I give it wholeheartedly.
Dawn loves that as her children are growing, her reading habits get to expand as well. Life, as she sees it, is chronicled on her blog, my thoughts exactly.