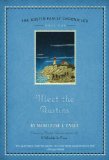 I didn't even know about the Austin Family Chronicles series by Madeleine L'Engle which begins with Meet the Austins, but the set has recently been re-released, and Square Fish publishers graciously sent me a set as part of my Madeleine L'Engle reading project.
First published in 1960, parts of it seem extremely dated such as this bit of a parental rant: "If they've gone out in all this rain, I'll beat them to a pulp and spread them on my toast like strawberry jam" (p. 52). Children of today might see that as some sort of weird child-abuse threat, but for me, growing up in the 70's with such threats as "I"m going to put you in a world of hurt," I know it's all in good fun.
Other parts also seem like something that kids today wouldn't understand, such as a girl whose mother travels all over Europe leaving her in the care of nannies and the nurturing yet firm mother and the authoritarian father that she comes to live with after her parents' death.
Vicky Austin, the delightful narrator of the story, is twelve. She's both much younger as compared to the worldliness of today's tweens, and much older as compared to responsibility level. I loved the classic old-fashioned big-family fun tales of the whole Austin clan, which included such things as a fun trip to Grandpa's barn-house on the beach, a secret "Anti-Muffin club"– and my favorite –a whole-family scheme to scare off Uncle Douglas' girlfriend.
This book was delightful — comfort reading. I am halfway through the second one in the series, and I can't wait to read the whole series.
But how would it go over with a well-read ten-year-old girl of today? Well, Amanda loved it. She really liked it, and she even described it as "timeless." So, go figure.
I recommend this for L'Engle fans from age 10 and up (did I mention that with a whole stack of books beckoning me, this series kept calling to me?).
Managing Editor Jennifer Donovan also blogs at Snapshot about life with her tween daughter and preschool son.
Each Saturday you can link up your weekly book reviews at Semicolon's Saturday Review of Books. Browse the weekly carnival of book reviews or link up your own.