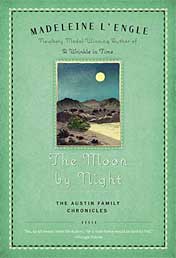 The Moon by Night is the second book in the books written by Madeleine L'Engle that have recently been republished as the "Austin Family Chronicles." In reality, these books were written over many years, this one in 1963, 3 years after Meet the Austins (linked to my review). Each book focuses on a different situation, and although they feature the same characters, they completely stand alone.
The Moon by Night all takes place over a couple of months in the summer in which the Austins drive cross country from Connecticut to California, camping along the way, before making a permanent move from their country home to New York City (which is the focus of The Young Unicorns: The Austin Family Chronicles, Book 3).
This novel is a bit more mature, due to a romantic interest of Vicky's, but by today's standards it's quite tame. Zachary is a rebel, but the most rebellious thing he does is show up when he's unwanted, and show a sort of anti-establishment attitude. There's not really any "yearning and burning," aside from a chaste excitement about a boy being interested in her.
I am continually amazed at L'Engle's grasp on the human condition. This novel is about Vicky's "awkward time," being an adolescent on the verge of becoming a young adult. There's no judgment there — either in the author's portrayal of her, or her own fictional family's perception of her — it's simply fact.
This would be a great book to read this summer if you are taking a driving and/or camping trip this summer. Even camping was different in the 60's. The audiobook read by the fantastic Maggi-Meg Reed is available to purchase via download.
If, like me, you have an advanced reader who wants to read more mature books, I can recommend this series. The vocabulary, tone and style is written for young adults, yet because they were written forty years ago, the content is perfectly accessible to a middle-grade reader. And yet even Amanda describes them as "timeless" not dated, which would likely be a turnoff to a tween of this millennium. My 10 1/2 year old daughter, Amanda, enjoyed this as much as the first one (as did I).
Read more about my "Reading Madeleine L'Engle" project, and stay tuned for more reviews of her works, including the third Austin Family Chronicles book (which we've just finished), and the fourth (which we are listening to on audiobook on our trip).
Managing editor Jennifer Donovan wonders why she doesn't read more middle grade and young adult fiction, because she always enjoys it when she does. She blogs at Snapshot.