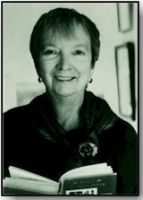 A couple of months ago, in my Nightstand post, I mentioned that I was reading the third of Madeleine L'Engle's Crosswick Journals. Most of you had never heard of that series. I hadn't either until fairly recently, but my mind did immediately make the leap to the other works that I have read and enjoyed that perhaps many of you have never heard of, including her adult fiction novels, which I stumbled upon in the library years ago.
I decided that I wanted to take this year to look comprehensively at Madeleine L'Engle's works because they are so varied, and each so thoughtful and interesting. Her official site numbers them at 63. I'm not aiming to read each of them, but I plan to re-read some favorites, make some new discoveries, and dip into each genre.
She's written non-fiction books on faith, on art, and on marriage. I've read books she's written on friendship, on writing, and her journals (which are what the Crosswick Journals are — each focusing on a different facet of her life).
I've read quite a few of her adult fiction novels as well and plan to re-read one that I loved, as well as a few that are new to me.
It's been years since I read the one work that each of you most closely identify with this author, the Newbery award winning A Wrinkle in Time, but I was thrilled to introduce Amanda to it recently, and even happier to know that she loved it. I definitely plan to revisit it.
How many other authors have written fiction and nonfiction, for adults, young adults, and children? And the question that has been prompting me is what might I find if I look at her body of work as a whole?

Have you ever tackled the entirety of an author's work? If so, did you make any discoveries?
Managing Editor Jennifer Donovan also blogs at Snapshot about life with her tween daughter and preschool son.
REVIEWS:

The Joys of Love
Friends for the Journey (reviewed on Snapshot)
Meet the Austins