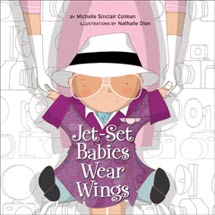 You might have seen the Babies Wear series published by Ten Speed Press. They are pretty cute. The latest title in the series is Jet Set Babies Wear Wings
and in this book travelin' babies are described as having an entourage, being able to speak foreign languages ("gagagoogoo") and as loving the papa-razzi (daddy, of course). Baby travels, makes friends and, naturally, finds time to relax in the spa (i.e., the bathtub) at the end of the days adventures.
I love the illustrations in these books by Nathalie Dion. They are all very trendy and yet have a 1960's or 70's feel to them. Everything looks very classic in this modern, sleek and sturdy board book. Each page spread has only one sentence on it which makes it easy to read this book and hold a baby's attention. I do, however, speculate that these books are as much for baby's parents as they are for baby themselves.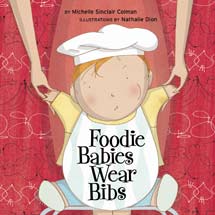 In Foodie Babies Wear Bibs
, baby learns its way around the kitchen, enjoys eating finger foods (on small plates), browses famers' markets and, of course, dines al fresco. Super cute book for all foodie mothers kids.
If you are looking for a cute gift to give to a new mom, or are looking for something a little out of the ordinary for your wee lad or lassie, then you should absolutely check out these books. They are humerously, tastefully and wonderfully done! Some additional titles that might suite you are Eco Babies Wear Green
, Urban Babies Wear Black
, or Beach Babies Wear Shades
.
Mostly, I think this series is just one to have fun with. It's different. Sometimes different is cool. This is one of those times.
Carrie comes by her book obsession honestly, having descended from a long line of bibliophiles. She blogs about books regularly at Reading to Know.