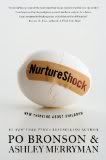 I prefer fiction, but every now and then, I find a nonfiction title that grabs my attention and keeps me turning the pages. The most recent nonfiction book to fit this description is NurtureShock: New Thinking About Children
. I'll just go ahead and say that I found this book completely fascinating, and I highly recommend it to all parents and anyone who works with children.
In NurtureShock
, authors Po Bronson and Ashley Merriman discuss many of today's most popular child-rearing strategies and show through extensive research why many of the strategies are failing. The ten chapters discuss topics such as why kids lie, the inverse power of praise, why white parents avoid the topic of race, teen rebellion, and the importance of sleep. The book is conversational in tone, making the numerous research studies interesting, accessible, and applicable to all parents.
In my opinion, an excellent nonfiction book is one that causes me to reconsider my own life and choices and compels me to make changes. For me, NurtureShock
fits into this category. I have already made some simple changes in the way I talk to my children about several topics, and I am standing firm in other matters (I have always been strict with bedtime, even on the weekends, and the research included in this book backs me up in this!). This is a book I am mentioning to all of my friends, and I am so glad I can recommend it to all of you as well.
Lauren is a wife, a mother of two, and an avid reader. She blogs at Baseballs and Bows. Lauren recommends this book as a 5 Star Read. To see other 5 Star Reads, click HERE.