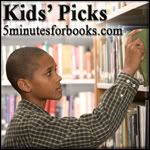 You know the drill by now (or if not — read the detailed instructions HERE).
I hope you'll take out some time to write up one or two of your children's best recommendations so that they can give their peers some suggestions of books to snuggle up with over the long winter break.
Things are changing for our Tuesday community events in 2010! Please stay tuned to find out how Children's Classics is becoming a Children's Classics Mystery Challenge for 2010 as well as how we are changing up Classics' Bookclub to allow you to set your own goals and share your thoughts on these classics.

We're going to move I Read It! from the 5th Tuesday (where reports on the Classics will now reside) to the first Tuesday, so that you can share a book review each month that you were inspried to read by someone. It doesn't have to be us here at 5 Minutes for Books. Tell us about why you finally picked up that book your sister has raved about — and what you thought about it. Or mention the book blogger who first introduced you to the hot new novel when you give your own review.

What's on Your Nightstand will stay right where it is — on the 4th Tuesday. We've been so pleased, not only at the consistent participation, and the new participants who join in each month, but also the way you visit around to other participants, making it a true community event.
Check out our current giveaways. Subscribe to our feed. Follow us @5M4B on Twitter.
Now it's your turn. Link up, directly to your blog post, or share your thoughts in the comments: