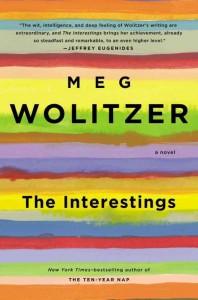 As I finished Meg Wolitzer's latest novel, The Interestings, while sprawled across my bed, my vision was blurred by the fat, hot tears rolling down my face, splashing down onto the pages below. My twelve-year-old son walked into the room to ask me a question and paused mid-sentence, noticing my emotional state. Without saying another word, he walked across the room to grab some tissues. Handing them to me, he stated more than asked, "Good book, huh?"
I haven't been wowed by a novel like this in a long while, simultaneously impressed by the quality of the writing and taken by the flow of the story, becoming completely caught up with fictional characters who seem like they could walk right off the page into real life. Without hesitation, I'm adding The Interestings to our list of the best of the best- the 5-Star Reads.
Read my more detailed review over at 5 Minutes for Mom, where you can also win a copy of The Interestings for your own reading pleasure.