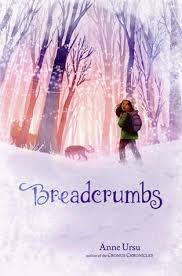 While I've been an avid reader my whole life, up until a few years ago, it had been a long, long time since I had experienced what's known as "middle grade fiction." Not since I was in the 9 to 12 age range had I read this genre, but it reentered my life a while ago as my oldest child began reading at this level. Suddenly, I found myself returning to the literary worlds created for older children, often written in their own pre-adolescent voice. Oh what a world this can be.
I've been purposefully avoiding all the buzz about Anne Ursu's new middle grade novel, Breadcrumbs. As with most books I'm planning on reviewing myself, I didn't want others' opinions to influence my own, but I also just wanted to know very little about the book before getting into it, because the synopsis itself was very minimal, yet intriguing. From the back of the book:
Once upon a time, Hazel and Jack were best friends. But that was before he stopped talking to her and disappeared into a forest with a mysterious woman made of ice. Now it's up to Hazel to go in after him. Inspired by Hans Christian Andersen's "The Snow Queen," Breadcrumbs is a story of the struggle to hold on, and the things we leave behind."
What I found was complete magic.
Magic, fairy tales, and an alternate reality all come together in a young girl's world, when the friendship that makes her life feel whole suddenly and inexplicably disappears. Though her active imagination should make her even more wary of going off on her own to make things right, she bravely pushes aside her fears of the darkness of the world and risks everything to save her friend.
Hazel, the fifth grade protagonist, is devastated after Jack, her next door neighbor and long-time best friend, just drops out of her life. There was a slight argument, and then Jack had an accident, and suddenly he was different. The second part of the story leaves the reality with which we are all familiar, but enters a world of characters and fairy tale (the original kind, remember, a la Andersen and the Brothers Grimm) that will surely entertain readers.
My eleven year old son was pulled in to the story immediately, and we read most of the first half aloud together. (Time constraints forced us to finish it separately, but I must make a high recommendation for this as a read aloud!) He says he really liked the story, how unexpected things kept happening, and how it was incredibly imaginative. For me, I was blown away by the writing itself. Beautiful doesn't even begin to cover it. It was wrought with emotion, and everything that Hazel feels is so perfectly captured in the author's words. The rich language of the narrative paints a vivid picture, and though my advance copy had several blank pages with the words "Art to come" printed on it, based upon the gorgeous cover, I have confidence that the handful of illustrations included in the novel will be wonderful.
Breadcrumbs is the type of middle grade novel that young readers will enjoy, and their parents (and teachers, too!) will be happy they're reading. The language and storytelling is complex, and the plot encourages readers to think critically about what is happening, and the many, many literary references dropped throughout the story will make kids chuckle to know that Hazel loves to read the same wonderful books they enjoy, too. I'm joyfully applying our Five Star Reads label to this lovely book, and I hope that both children and their parents will choose to spend some time with Hazel as she heads off on a trail to find her friend.
Two lucky readers will be receiving their own copy of Breadcrumbs, along with bookplates signed by the author Anne Ursu. Please leave a comment here to be entered, and this giveaway is open to residents of the U.S. and Canada. We'll announce our winners on 10/12. The giveaway is closed.
We have several winners to announce:
Don't miss a thing: Check out our current giveaways. Subscribe to our feed or video reviews on YouTube. Follow us @5M4B on Twitter or on Facebook.
Dawn loves to be swept away by a good book, from novels all the way down to picture books, a good story is a good story. She tells her own story on her blog, my thoughts exactly.