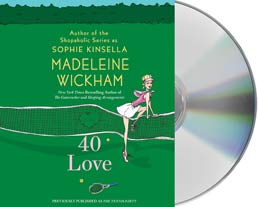 40 Love: A Novel is about a group of friends who get together at a country home for an elaborately planned tennis party (It actually is a re-issue of her first novel, originally called The Tennis Party). For some reason this setting made me feel like I was in an Agatha Christie novel (or maybe a Clue game). There's no mystery, and Ms. Christie certainly doesn't use the salty language that peppers Madeleine Wickham's books (who also publishes as Sophie Kinsella), but something about a weekend gathering at an English country manor had me sort of waiting for something to happen.
No, no one is murdered, but there are some under-handed dealings and misrepresentations that are revealed as we get to know more about this group of friends and as they get to know more about each other. The plot twists and turns as an ex shows up unexpectedly, one character blackmails another, after another is pressured into making a big decision that might not be in his best interest.
There are a few themes that will likely be familiar to those of us who are in our 40's: what people will do to get ahead, how no one's life is the same as it appears to outsiders, the failures and successes of children, the value of old friends, and the unexpected blessings of new ones.
If me talking about themes in a review make you want to run away and burn your Norton Anthology in effigy in response, don't stop reading! Yes, these are the type of issues that come up, but it's basically a light, fun, romp. No literary analysis required, I promise!
AUDIO NOTES: This is very expressively read by Katherine Kellgren, who I love most for her work on Rick Riordan's Kane Chronicles. She gave a nuanced performance that gave everyone in the group of characters a very distinct identity. Because of this, I'm pretty certain that I enjoyed listening to it far more than I would have enjoyed reading it.

Jennifer Donovan took tennis lessons once. She wasn't awful, but all in all, she'd still rather read or blog.