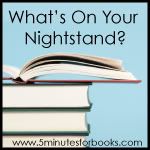 What are you reading? What have you recently finished reading? What do you hope to read in the next month?
These are all questions we ask and answer on the 4th Tuesday of each month at the What's on Your Nightstand meme. I hope you'll join us, either by writing up your own post, or sharing in the comments or visiting around and connecting with other booklovers in that way.
If you've written a post on your blog, link directly to that post below.
Check out our current giveaways. Subscribe to our feed. Follow us @5M4B on Twitter or on Facebook or YouTube.