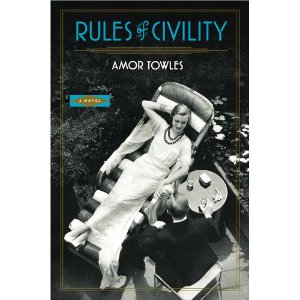 Rules of Civility was one of my most memorable summer reads. I was happy to be able to host a giveaway on my original review, and I'm just as happy to give you another chance to win the novel Rules of Civility (linked to my review) with a different spin.
In the novel, Tinker Gray uses George Washington's "Rules of Civility and Decent Behavior in Company and Conversation" as a guide. As a fun tie-in to the novel, here are the top 10 rules, as chosen by the publisher:
(1st) Every Action done in Company, ought to be with Some Sign of Respect, to those that are Present.
(12th) Shake not the head, Feet, or Legs rowl not the Eys lift not one eyebrow higher than the other wry not the mouth, and bedew no mans face with your Spittle, by approaching too near him when you Speak.
(50th) Be not hasty to beleive flying Reports to the Disparagement of any.
(51st) Wear not your Cloths, foul, unript or Dusty but See they be Brush'd once every day at least and take heed that you approach not to any Uncleaness.
(56th) Associate yourself with Men of good Quality if you Esteem your own Reputation; for 'tis better to be alone than in bad Company.
(68th) Go not thither, where you know not, whether you Shall be Welcome or not. Give not Advice without being Ask'd & when desired do it briefly.
(82nd) Undertake not what you cannot Perform but be Carefull to keep your Promise.
(89th) Speak not Evil of the absent for it is unjust.
(107th) If others talk at Table be attentive but talk not with Meat in your Mouth.
(110th) Labour to keep alive in your Breast that Little Spark of Celestial fire Called Conscience.
What do you think? Do these apply to today?
If you'd like to win a signed copy of Amor Towles' Rules of Civility, I'd like you to share one of your own rules to live by today. They can be unique or tried-and-true. The giveaway is closed.
Just leave a comment with one of your own rules, and we'll select a random winner (U.S. only), to be announced on September 28.
Don't miss a thing: Check out our current giveaways. Subscribe to our feed or video reviews on YouTube. Follow us @5M4B on Twitter or on Facebook.
One of Jennifer's rules to live by is that if something must go, it should be the housework. She blogs at Snapshot.