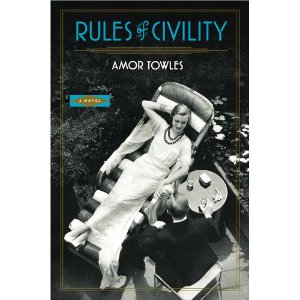 The 1930's and '40's fascinate me. Between the hard times of the Depression to war to the beginnings of changing roles of society, there are so many interesting circumstances, which make for a lovely literary backdrop.
Rules of Civility: A Novel by Amor Towles covers one year — 1938 — in the life of some young adults.
In 1966, Katey is at an art exhibit with her husband where she sees a picture of an old friend she met on New Year's Eve in 1937, and she is transported back to that year. The story then stays firmly in that year, until the very end when we return to 1966 for a wrap-up (I say this so you know that it's not a confusing flashback novel).
Katey and her rooming house friend Eve are girls who have each decided to strike out on their own, for different reasons and from different backgrounds. But background aside, they are both working girls having to scrimp and save. When they meet the young, beautiful and obviously rich Tinker Gray in a bar on New Year's Eve, the three of them form an immediate bond that ends up being cemented and simultaneously ripped apart by tragic circumstances later that month.
The setting is lovely. We get to know the opulent old money New York as well as the view from the working class. It's a quite introspective novel, yet it also feels clever and quick. I enjoyed digesting Towles' prose and the story's plot equally.
Because many characters were introduced superficially before they become integral to the story and thus dear to my heart, it's the kind of book I wanted to go back and re-read to see who those characters were in the beginning as compared to what I thought of them by the end.
All of the characters change over the year, and I was continually surprised by them, not being able to discern their next moves in many cases. I often couldn't decide their motivations — were they selfish or self-preserving or simply going along with the flow?
I feel as if my review has done disservice to this book, often the case when I really like a book, which was definitely the case with this one.
The good news is that you have a risk-free chance to check out Rules of Civility for yourself. Leave a comment here if you'd like to win a copy (U.S. only). We'll announce the winner right here on August 3.The giveaway is closed.
Don't miss a thing: Check out our current giveaways. Subscribe to our feed or video reviews on YouTube. Follow us @5M4B on Twitter or on Facebook.

Jennifer Donovan loved her time living near New York City and blogged about it at Snapshot. She is now equally happy back home in Houston.