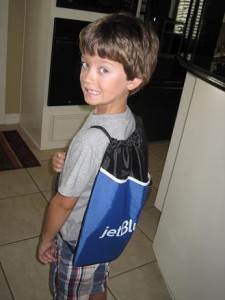 If you plan to do any traveling with kids this summer — either on the road or in the skies — you know how important it is to have a few things that will keep kids busy. Hopefully books are on that list. My kids do their best reading when they are confined (bwah ha ha), and while personal DVD players and gaming systems are can't-miss ways to keep kids quiet, I'm happy to announce that Jet Blue is encouraging kids to take some of the time in the air to read.
Soar with Reading is a joint effort of Jet Blue and PBS Kids. You can track your child's reading minutes and/or books read this summer, and even download some activities and enter to win an awesome prize that would benefit you (with a fun family vacation) and your library (with $10,000 of Random House Children's books).
Other highlights of the program:
For every reader who registers on SoarwithReading.com, JetBlue will make a book donation to a child through First Book, up to 10,000 books.
This summer, Jet Blue is also sending crewmembers out to volunteer at kid-friendly events at local libraries all across the country. These global guides will read books to children, share stories about their job and their exciting travel adventures (Click through the link to see how to request a visit at your library)
Child passengers will also receive activity kits on JetBlue flights as well!
I received a couple of sample kits so I could check out the booty, and I'm also happy to be able to offer one to one of you (U.S. residents only).
The items all come in a extra-cool string bag. I like that this blue color works for boys or girls, and it also has a cool drink holder pouch that you can't see in the picture of Kyle with it on because it's on the other side. I've never seen a string backpack with a holder like that! Also my two bags each had a different CD and book, though I can't guarantee how that would work out at the airport, but it's worth a try to ask if are traveling with more than one child.
Steve Songs CD — Though I limit electronics, music CDs are great entertainment for my kids in the car. If Kyle gets too chatty, we just slip in one of his favorite CDs and plug in the backseat headphones, and he's good to go.
a book (mine were both Magic Tree House books, which are great read-alouds, or independent reads for boys or girls).
Soar with Reading activity booklet
Take-a-Long Hooper so that you can take pictures with him on your journey (you can also send postcards from the website)
Leave a comment if you'd like to win your own Jet Blue Summer Reading pack. I'll announce the winner right here on June 20.
Keep up with us this summer: Check out our current giveaways. Subscribe to our feed or video reviews on YouTube. Follow us @5M4B on Twitter or on Facebook.
Jennifer Donovan will be making two separate trips with her kids this summer — one by air and one by SUV. She looks forward to both and might string together a post or two about them at Snapshot.