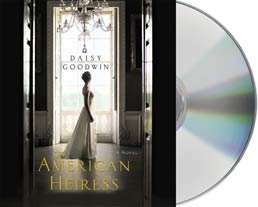 Set in 1893 in the high society world of Newport, Rhode Island, the novel The American Heiress paints a vivid picture of that life of wealth and privilege, looking specifically at the young American heiress Cora Cash. Like many young women, she spends some time in England, where her mother hopes that she'll land a title.
Cora is headstrong and does not wish to do what her mother wants, but as it turns out, she has a riding accident on the property of a duke and indeed lands the titled husband her mother covets.
If you think that adjusting to your mother-in-law was tough, imagine Cora having to deal with the "double duchess" (married to two different dukes at two different times). And things only get worse when her husband's old flame and her old beau show up on the scene.
Though historical fiction isn't usually my first choice of fictional genre, I enjoyed Daisy Godwin's The American Heiress. It felt a bit like Jane Austen chick lit. The same scenes of parties and social systems and the themes of strong women, romantic conflicts, class structures made it read a bit like Jane Austen light (light because the setting and dresses and whatnot are the same, but without the quick dialogue and social commentary). I don't know if historical fiction and chick lit often go hand in hand, but this definitely read like women's light fiction with a lavish historical setting.
AUDIO NOTES: June is National Audiobook month, and if you aren't a convert yet, why not give it a try? When I first started buying audiobooks, I always went for "bang for the buck" and with 13 hours of listening time to the pleasant voice of Katherine Kellgren, you definitely get your money's worth on this one. For some reason, a very long book with sort of a quiet pace is often more appealing to me via audio.
You can hear an excerpt on the Macmillan Audio page.
Thanks to Macmillan Audio, I have a copy of The American Heiress audiobook on CD to give away to one of you. Just leave a comment if you'd like to win (U.S. addresses only). We'll announce the winner on July 6.The giveaway is closed.
The winners of our previous giveaway Fabulous Flowers by Klutz are #17 Linda Kish and #Some Lucky Dog.
Don't miss a thing: Check out our current giveaways. Subscribe to our feed. Follow us @5M4B on Twitter or on Facebook.
Jennifer Donovan wouldn't have made a good debutante. She wore the same dress to her junior and senior proms — she liked it and had different dates, so why not? She shares other memories and fashion faux pas on occasion at her blog Snapshot.