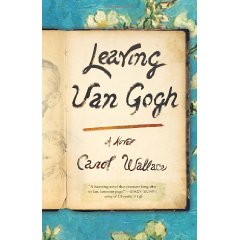 Leaving Van Gogh was a fantastic book. Carol Wallace transports the reader to the time of the Impressionists in France and she becomes the character who tells the story, Dr. Gachet, which caused me to become even more engrossed in the story (and so I had to keep reminding myself that this wasn't history but fiction).
Psychiatrist Dr. Gachet was known for his friendship with artists (in real life, not just the novel) such as Cezanne and Pisarro. Theo Van Gogh sought him out when his brother Vincent was ready to be released from a mental institution, yet not fully able to care for himself away from his family.
Vincent moved to Auvers, France and he and Dr. Gachet become friends, and though Van Gogh's work was not respected in the art community until many years after his death, Gachet recognizes the genius of his technique as a painter. Gachet also understands Vincent and sympathizes with his grief and mental illness.
Honestly, the fact that Van Gogh was mentally ill (cutting off his ear and committing suicide) has always turned me off from his works. I'm not sure why, since I know that artists in general are prone to mania or depression as a part of their temperament.
This novel gave me a greater appreciation for Van Gogh's work and a greater understanding of it, through the fictional, but based on real-life, art aficionado Dr. Gachet.
I've come to terms with the fact that they can't all be 5-Star Reads, but Leaving Van Gogh definitely is. Carol Wallace put me in Auvers in 1890. I felt as if I were there, or at the very least, reading Gachet's own words and not a novelist's interpretation of them. I knew how Vincent Van Gogh's story ends, but Wallace's storytelling had me poring over every detail and scene, wondering what would happen next.
Jennifer Donovan and her family have recently become members of the Houston Museum of Fine Arts, so she's adding "patron of the arts" to her list of other titles, which include mother, wife, blogger, and reader.