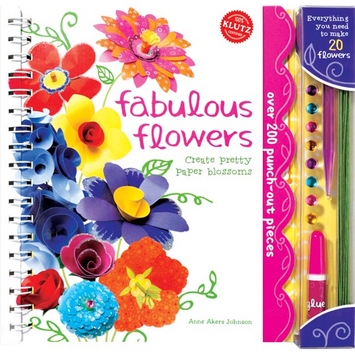 Having a few Klutz craft/activity books on hand has become a given for me. As a parent, I enjoy that everything is included, and the instructions are thorough enough for kids to generally tackle the projects on their own.
When we were given the opportunity to review the new Fabulous Flowers by Klutz, Amanda and I jumped at the chance.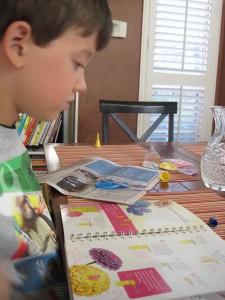 The age recommendation is 8 and up. I usually find the Klutz recommendations to be accurate, but my very crafty 12 1/2 year old daughter Amanda was a little daunted. She said that they seemed complicated. I asked why, and she said that you had to glue and hold.
When I looked at the set with my eager 7-year old son, I saw that you did have to let the glue dry on the first step of making the flower center, but honestly, there's not much complicated about it at all.
The directions are very clear, and do require some fine motor skills, but not much skill beyond that.
The book contains punch-out pieces and instructions to guide you in making Zinnias, Daisies, Poppies, Daffodils, Larkspur and more. I love that they are real kinds of flowers and are called by their names.
Kyle and I made a zinnia, so realistic it practically smells good. Well, maybe not, but it was fun, and it is pretty: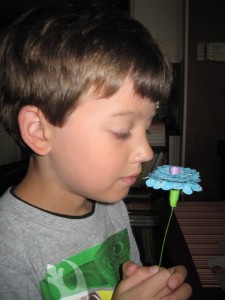 You can buy Fabulous Flowers at the Klutz site, amazon.com or your local retailer that carries Klutz books.
Two of you (U.S. addresses only) will win your own copy! Just leave a comment, and we'll announce the winners here on June 22. The giveaway is closed.
Check out our current giveaways. Subscribe to our feed. Follow us @5M4B on Twitter or on Facebook.
Jennifer Donovan isn't so good about creating projects and crafts, so she especially appreciates these sort of kits that make it easy to take a little craft break. She blogs about life with her 7-year-old son and 12-year-old daughter at her blog Snapshot.