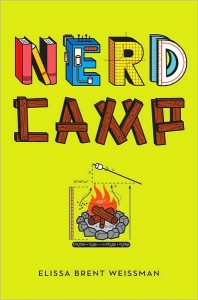 My 12-year-old daughter and I read Nerd Camp by Elissa Brent Weissman together. It was the first time we'd buckled down with a read aloud in a long time, and it was just the kind of book we like to enjoy together — funny and sweet.
I'm not big on the word "nerd," because it's used as an insult, and like any insult it makes people feel bad about who they are. However, it totally works in this book. I think that the secret that most adult nerds know deep down is that they don't really care what other people think. The cover shows this delightful juxtaposition perfectly — there are some mathematical equations for heat and the perfect angle for roasting the marshmallow. The title font shows the different elements, camp (wood), and books, graph paper, and circuitry.
Gabe, 10, has been accepted in a prestigious 6-week summer camp, SCGE or the Summer Gift for Gifted Enrichment, which other kids in the school call the Smart Camp for Geeks and Eggheads. He's excited about going, but he wants to impress his step-brother-to-be Zack, the ultimate cool guy, who he's just recently met. He begins wondering how he's going to look in Zack's eyes. He knows that there's a lot of cool things that go on at camp, like boating and swimming and an obstacle course, not to mention Color War.
So, he does what any geek gifted kid would do — he makes a logic proof, which he adds to throughout the summer:
Problem: Am I a nerd who has only nerdy adventures?
Hypothesis: No
The proof is divided into two columns:
Things I can tell Zack (I am not a nerd)
Things I can't tell Zack (I am a nerd)
For example, "My bunkmates are really cool, and we became friends right away!" buuut. . . "They like learning digits of Pi."
Gabe and his bunkmates Wesley and Nikhil are great guys. Yes, they are gifted, but that's not all that they are. They know that other kids make fun of them, but they are also proud of who they are. However, Gabe knows that a little self-improvement, like trying out some cooler hairstyles, doesn't mean that he's turning his back on who he is.
I really can't say enough good things about Nerd Camp. The author's website has some fun supplemental activities, like a scavenger hunt, word games and logic puzzles.
Enjoy it with your favorite nerd (or any kid who loves camp adventures).
Don't miss a thing: Check out our current giveaways. Subscribe to our feed or video reviews on YouTube. Follow us @5M4B on Twitter or on Facebook.

Jennifer Donovan never needed prescription goggles or memorized digits of Pi, but she is awfully proud of her SAT scores. She blogs at Snapshot.