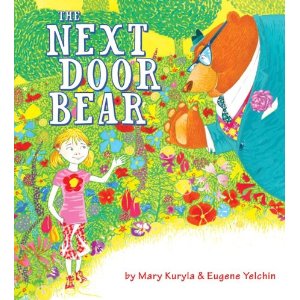 Maybe it's because we recently moved, but Mary Kuryla and Eugene Yelchin's story about a girl, Emma, who has just moved into a new apartment and a new city, touched my heart.
The truth was Emma didn't feel welcome.
One day the kids were running through the sprinklers. That's not new.
Any minute now they'll ask me to join in. They should know I'm new here.
She waited and waited and waited, but they didn't. Well how sad is that?
One day she was in the elevator, and the back doors opened onto a beautiful garden in which there was a bear! She ran out, but before the doors closed that bear joined her in the elevator — all dressed up in a suit and tie. She apologized for coming where she wasn't welcome, but the next day there was a note on her doormat, inviting her for tea and honey.
Not only did they have tea, but they ran through the sprinklers together!
Emma had a good day. And she realized that if it was so easy to make friends with Mr. Bear that she could probably make friends with the neighbor kids too.
It's a sweet story. A little sad (but age appropriately sad — what kid hasn't felt unwelcome?), a little whimsical, and beautiful. The cover is brighter than bright, and the scenes where Emma is in the garden are painted in that over-the-top cartoonish style. But some of the other scenes have a flat style — more realistic but with a certain style.
Next Door Bear is a great book that will help encourage kids to be mindful of new kids as well as give them some comfort if they are the ones who feel left out. I really enjoyed it.

Jennifer Donovan doesn't have a bear next door, but there are some nice kids who have welcomed her new kids to town. She's blogged about their readjustment at Snapshot.